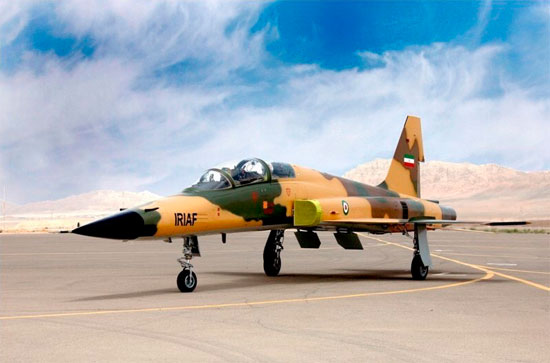 Claiming Iran's growing military strength is only to deter enemies and to ensure lasting peace, the nation today has unveiled a new indigenously developed fighter jet with advance technologies.

Iran's state media showed images of President Hassan Rouhani sitting in the cockpit of the jet, named "Kowsar". As per the claim, it is a fourth-generation fighter jet capable of carrying different types of weapons.

As per the Iranian government, the fighter jet is fully domestically developed with enhanced avionics, multi-purpose radar and advanced fire control system in place.

Last week itself, Iranian Defense Minister Amir Hatami had announced that his country will unveil a new fighter jet to celebrate National Defense Industry Dar on August 22.

It is to be noted here that Iranian defense capability is struggling to come up because of the heavy sanctions imposed by the international community owing to its military nuclear program, which was investigated by IAEA in 2003, although the later reports suggested no credible evidence after 2009.

Ever since Iran's nuclear weapon program came under scrutiny, and because of Iran's noncompliance as a signatory to the Non-Proliferation Treaty (NPT), the UN Security Council pressed on Iran to suspend all its nuclear program.

Amid continued international pressure and sanctions, Iran today unveiled a new homemade fighter jet, but many doubt its capability as a fourth-generation technology.

It is to note that the twin-seat jet looks like the decades-old American F5, which are still in service in Iran.

Nevertheless, President Rouhani said that with growing military power of the Islamic Republic, the United States of America would not dare to attack Tehranbecause it knows its consequences.

He also went on to add that under the President Donald Trump, the United States is also moving away from its own allies.

Iran still use U.S.-made F-4, F-5 as well as F-14 fighter jets along with Russian-made Sukhoi aircraft. This is because, from 1950s to the 80s, Iran was well-supported by the United States and the European Union community inits nuclear programs (under the erstwhile Atoms for Peace program). It is only after the 1979 Iranian Revolution, Iran took a different path.

Under the Donald Trump regime, it seems there is no way the growing tension would ease in near future. The Trump administration has already pulled out of Iran's 2015 nuclear deal with world powers, reimposing sanctions on Tehran.
--Sangita Roy