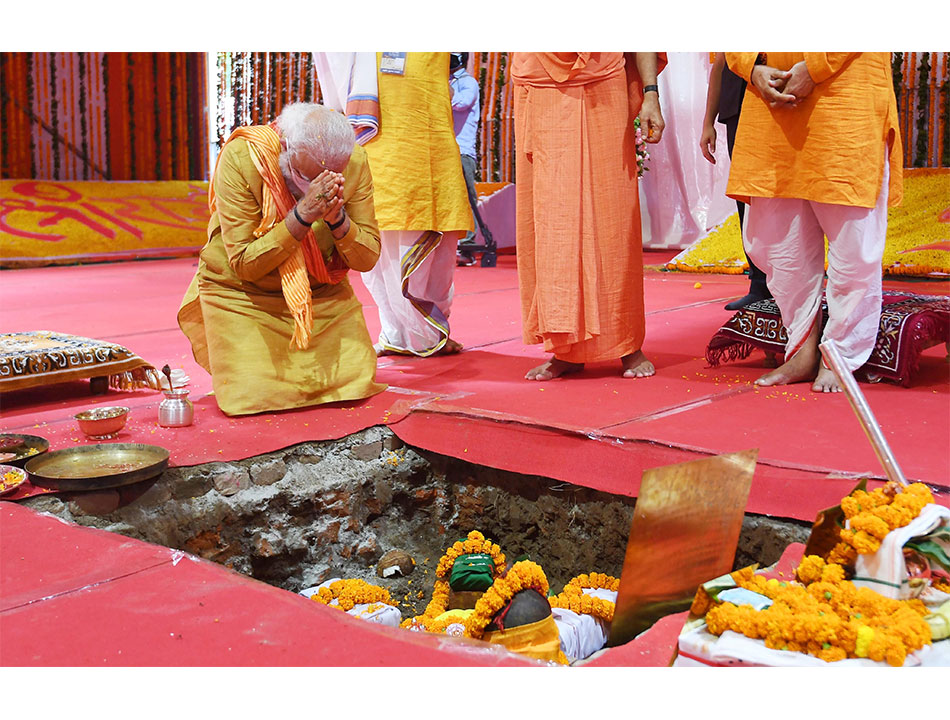 The city of Ayodhya was decorated like never before so as to welcome honorable PM of India, Narendra Modi who laid the foundation stone of the historic Ram temple.
As the devotees enchanted 'Jai Siya Ram', PM Modi laid the foundation stone made of silver for the historic temple. Leaders like UP Chief Minister Yogi Adityanath, Uttar Pradesh Governor Anandiben Patel and RSS chief Mohan Bhagwat along with 175 other leaders and personalities also attended the ceremony.
PM Modi said "I believe that this grand Ram temple which will be built in Ayodhya, like the name of Shri Ram, will reflect the rich heritage of Indian culture. I believe it will inspire the entire humanity till eternity. Every heart is illuminated; it is an emotional moment for the entire country. A long wait ends today."
It is said that three years from today is all it would take for the completion of one of the largest temples in India.
The 'Bhoomi Pujan' started today at 12:10 pm sharp and at the auspicious time of 12:44:08, a 22.6 Kg silver brick was used to lay the foundation.
CM Yogi also thanked the Prime Minister for making his presence felt on such memorable day by adding "I thank PM Modi for being present today, at the most awaited moment of the past 500 years. We have to implement the work plan prepared by PM Modi. This temple will not only be the epitome of Lord Ram's greatness but of India's too."
Other than laying the foundation, Modiji also performed 'sashtang pranam' and also planted the holy, celestial 'parijat' sapling which holds religious value to the Hindus.
It must be noted that not everyone joined the grand celebration as All India Majlis-e-Ittehadul Muslimeen chief and Hyderabad MP Asaduddin Owaisi blamed PM Modi for ignoring the secularism of our country by favoring Hinduism.
He said "India is a secular country. Prime Minister has violated the oath of the office by laying the foundation stone of Ram Mandir. This is the day of the defeat of democracy and secularism and success of Hindutva. The Prime Minister today said he was emotional. I want to say that I am also equally emotional because I believe in coexistence and equality of citizenship. Mr Prime Minister, I am emotional because a mosque stood there for 450 years... Congress is equally responsible for the demolition of Babri Mosque. These secular parties have been completely exposed."