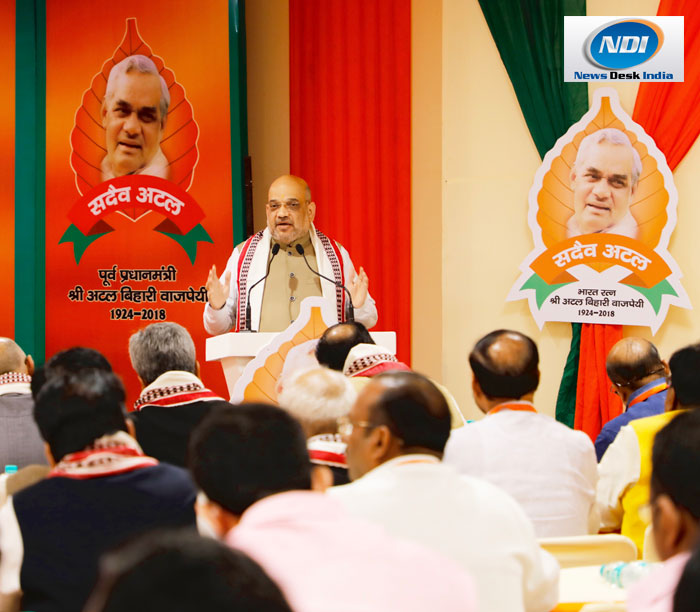 In its national executive meeting in Delhi, the Bharatiya Janata Party (BJP) extended the tenure of party president Amit Shah until 2019 general elections. In the meet, the ruling party has also initiated discussion on strategy to counter opposition's attack on the center for issues like continuous rise in oil prices and farmers' distress.
The two-day meet (Saturday, Sunday) in the national capital is attended by top BJP leadership from all the states and union territories, where it is also being discussed to formulate a strategy for upcoming assembly elections. For now, the party has deferred the internal election for a new chief until the next year elections.
Mr. Shah has been one of the mega minds of BJP leadership who was credited with BJP's winning streak in several states. Knowns as the Chanakya of Indian politics, it was impractical for the party to make someone else as the chief in an election season, and when the party constitution allows an individual to be the party president for two consecutive terms of three-years each.
Amit Shah first led the party as the president in July 2014 after Rajnath Singh became Home Minister in the Narendra Modi government. He completed Singh's term and then elected unopposed for the second time on January 24, 2016. His tenure was supposed to end in January 2019.
While Amit Shah in the inaugural day of the meeting declared emphatically that BJP will once again come to power in 2019, the party needs to think up its strategy for assembly elections in several key states, where BJP is in power. BJP is likely to find it difficult to win elections in Rajasthan, Chhattisgarh and Madhya Pradesh, where anti-incumbency is a crucial factor to drive votes in opposition's favor.
BJP leadership will also discuss the elections in Telangana, where it is certain that the party would go alone. Election in Telangana has been fast-forwarded, as the state assembly has been dissolved by the recommendation of TRS government.
Along with BJP Chief Amit Shah, Prime Minister Narendra Modi, senior BJP leader Lal Krishna Advani, Finance Minister Arun Jaitley and Defence Minister Nirmala Sitharaman are present in the meeting.
Sitharaman also paid tribute to former Prime Minister Atal Bihari Vajpayee and said that this is the first executive meet in the absence of Atal Bihari Vajpayee ji.
The Former PM breathed his last on August 16, 2018 at about 5:05 PM in AIIMS, Delhi after fighting prolonged ailments.
Prime Minister Narendra Modi will address the national executive meet on Sunday.
--Deepak Kumar