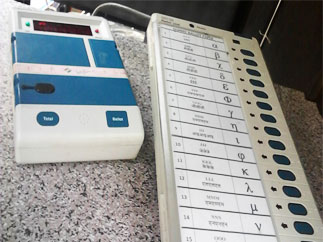 Second Phase of voting for Lok Sabha elections recorded a turnout of 27.84 percent as per election commission report. Senior Deputy Election Commissioner Umesh Sinha said that the election process went off peacefully barring few incidents of violence. The polling was held for the 95 Lok Sabha seats in 11 states including 38 of 39 constituencies in Tamil Nadu and union territory of Puducherry.
Polling was held on the various polling states for 95 Lok Sabha seats in the country. Polling went peacefully barring few incidents of violence.
In the Tamil Nadu's Vellore constituency, voting was cancelled over the fear of abuse of money.
Statics of Phase two voting:
Assam: 75.85%
Bihar: 61.9%
Chhattisgarh: 71%
Jammu & Kashmir: 43.94%
Maharashtra: 58.2%
Odisha: 57.81%
Tamil Nadu: 72%
Uttar Pradesh: 61.9%
West Bengal: 76.43%
Karnataka: 61.8%
Puducherry: 78%
There were reports of damaging the electronic machines in Manipur and Uttar Dinajpur in West Bengal.
The lowest turnout of voting percentage was in Jammu & Kashmir. Here voting percentage recorded was only 43.94%.
The highest voting percentage recorded was 78 percent in Puducherry.
Voting in most sensitive area Udhampur and Srinagar in Jammu and Kashmir went for polls in this phase. Tight security arrangement was made in Jammu and Kashmir for Lok Sabha elections.
The turn was recorded in West Bengal, Assam, Manipur, Chhattisgarh, Puducherry and Tamil Nadu, where reported turnout was above 70 percent.
Due to 'glitches in EVMs a total of 1,000 ballot units, 769 control units 2,766 paper trail machines were replaced said deputy election commissioner Sudip Jain.
During the second phase of polling conducted in fourteen seats in Karnataka along with 10 in Maharashtra, eight in Uttar Pradesh, five each in Assam, Bihar and Odisha, three each in Chhattisgarh and West Bengal, two in Jammu and Kashmir and one seat each in Manipur and Puducherry.
During this phase voting were also conducted in 35 assembly constituencies in Odisha. In Tamil Nadu by-polls are being held in 18 assembly seats.
Elections are being held for 543 Lok Sabha seats in the country which started on April 11 as first phase. There are total 7 phases in the election process: April 11, April 18, April 23, April 29, May 6, May 12 and May 19. Vote counting will take place on May 23 and results may be delayed 5 days due to verification VVPAY slips.