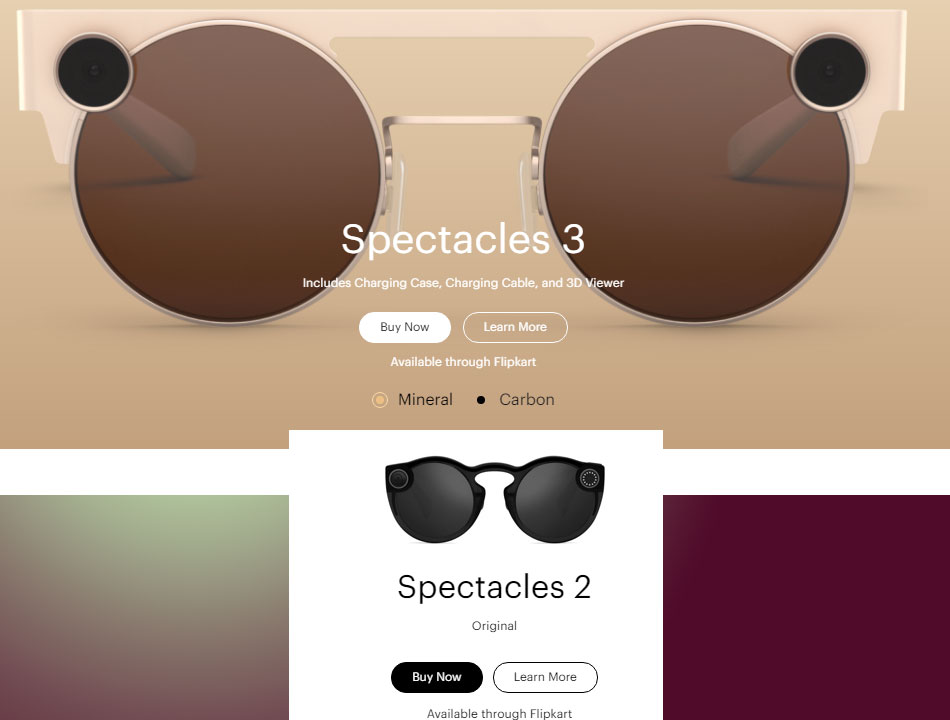 The parent company of Snapchat that is Snap Inc. is set to launch its smartglasses in India that can directly upload content on Snapchat.
Snap Inc. that is the developer of the popular social media app, Snapchat rolled out its Spectacles 2 and spectacle 3 smartglasses in 2018 and 2019 respectively. The smartglasses will be launched in July in India.
These glasses are capable of clicking pictures or recording videos, all thanks to camera lens that the glasses house on both sides of the frame. One can also connect these glasses to their Snapchat account and the content can directly be posted on the social media.
Spectacles 2--
The spectacle 2 weighs around 45.4 grams and is capable of clicking HD photos and videos. These water resistant smartglasses are well suited Apple iOS 10, Android 4.4 and their upgraded versions. The remote sync of these glasses with Snapchat, allows users to do innumerable things with content like choosing filters etc before uploading it.
The two lenses that these glasses equip will provide users with a 105 degree field of view.
When it comes to battery life, Spectacles 2's durability allows it to record 70 videos at one go with a full charge. Its internal storage is of 4GB. Therefore, storing about 150 videos or 3,000 photos is no issue for this device.
Dual band Wi-Fi and Bluetooth v.4.0 will be offered on the connectivity front. Microphone array (dual) for better sound recording will be a part of the glasses too.
Spectacles 2 will also offer three distinct colour choices-- Sapphire Midnight, Onyx Eclipse and Ruby Sunset.
These smartglasses are priced at Rs 14,999 and will be available on Flipkart from 4th July.
Spectacles 3--
These smartglasses weigh around 56.5 grams and besides clicking HD pictures, they can even capture 3D images and record videos at 60fps.
Spectacles 3 house 4 microphones so as to record audio in the best possible quality. The tips of these glasses can be adjusted. Spectacles 3 is tinted so as protect eyes from the harmful UVA and UVB rays. These glasses are compatible with iOS 11, Android 6 and their above versions.
It also offers its users GPS and GLONASS.
Its battery life allow the device to record and upload up to 70 videos in no less than a single charge.
Thanks to its internal storage of 4GB, Spectacles 3 can save 1,200 3D images and 100 3D videos.
It offers users two options when it comes to colours-- Mineral colour and Carbon colour. Spectacles 3 is priced at Rs 29,999 and will be available on Walmart owned e-commerce giant, Flipkart , July 4th onwards.