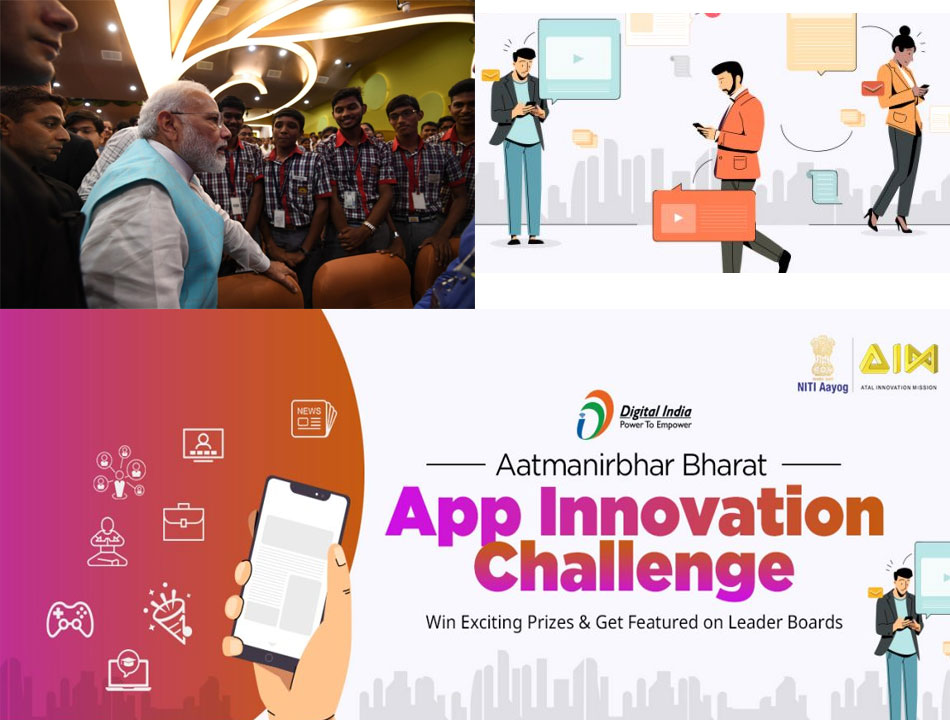 Following the ban of 59 Chinese apps, Government of India provides an opportunity to Indian based startups in the growth of their applications.
Prime Minister Narendra Modi on Saturday launched the 'Aatmanirbhar Bharat App Innovation Challenge' where he appealed Indian based start ups, entrepreneurs and techies to start manufacturing and developing applications that are high quality. This project was launched by Ministry of Electronics and Information Technology and Atal Innovation Mission.
PM Modi took to Twitter and tweeted "Today there is immense enthusiasm among the tech & start-up community to create world-class 'Made in India' Apps. To facilitate their ideas and products @GoI_MeitY and @AIMtoInnovate are launching the Aatmanirbhar Bharat App Innovation Challenge."
This challenge will involve two steps or tracks that will involve encouraging the growth of existing apps and buildout of new apps. PM said "Track-01 will work in mission mode for identifying good quality Apps for the leader-board and shall be completed in around a month. The Track-02 initiative will work to help create new champions in India by providing support in ideation, incubation, prototyping and roll out along with market access."
In recent times, Government has banned 59 Chinese apps that include TikTok, UC Browser and WeChat due to claims that they violated privacy and security of their users. Most of these apps had some kind of Chinese connect. Thus, Indian entrepreneurs and startups now have the perfect opportunity to sell their Indian based products with less competition from established MNCs.
So as to replace 59 apps, the government will focus on eight categories that incorporate Office Productivity & Work from Home, Social Networking, E-Learning, Entertainment, Health & Wellness, Business including Agritech and Fintech, News and Games.
People can submit their entries on MyGov website from 4th July till 18th July. A jury will be appointed consisting of personnel from private and public sectors. After the entire selection and evaluation process, rewards and prizes will be provided to the best apps of each track as Rs 20 lakh, 15 lakh and 10 lakh will be provided to the top three winners. Sub-categories winners may be receiving Rs 5, 3, 2 lakh too.
Appropriate apps will be guided by the government in its growth and will place them on government marketplace. Sturdiness, security and convenience are some of the factors that will be taken into account.