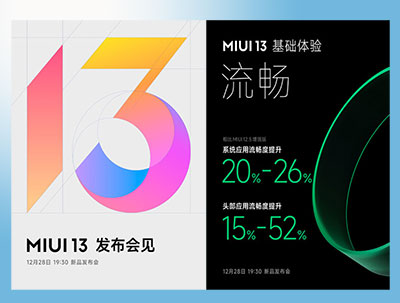 Along with the Xiaomi 12 series, Mi launched MIUI 13, their latest custom ROM for smartphones and tablets. According to reports, the latest MIUI version is more user-friendly than the MIUI 12.5 Enhanced Version.
Mi announced MIUI 13, their latest custom ROM for smartphones and tablets, alongside the Xiaomi 12 series. The latest MIUI version is said to be more user-friendly than the MIUI 12.5 Enhanced Version. Three new privacy-focused features in MIUI 13 are, face verification protection, privacy watermarking, and electronic fraud protection. It also supports widgets, giving you an iOS 15-like experience. MIUI is Xiaomi's proprietary skin for smartwatches, smart home gadgets, and televisions, and it will be available next year.
Xiaomi's most advanced custom skin for smartphones and tablets is MIUI 13. Rich widgets are supported in the proprietary software, which users may set on their home screen and customise in various sizes, comparable to the widget support in iOS 15. There's also a new system font called 'MiSans,' which promises clear eyesight and a pleasant reading experience. MIUI 13 also includes preloaded dynamic wallpapers and themes to further personalise the experience.
In terms of performance, MIUI 13 is said to provide a 20 to 26 percent increase in overall system app fluidity and a 15 to 52 percent increase in third-party app fluidity over MIUI 12.5 Enhanced Version.
MIUI 13 comes packed with improved privacy protection, including system-level electronic fraud alert, fraudulent app installation prevention, and face verification protection, according to the company. A privacy watermark option is also available, allowing you to watermark your scanned papers before sharing them. According to the company, this will assist prevent the theft of personal information.
Mi Smart Hub is a feature in MIUI 13 that allows users to identify nearby devices and share and access material such as music, display, and apps across many devices with a single gesture.
On the occasion, Xiaomi also unveiled MIUI 13 Pad for tablets, in addition to MIUI 13 for smartphones. The tablet version improves multitasking with gesture support and an updated taskbar that can appear at any time, regardless of which programme is currently active on the frontend. Users can also open numerous apps on a single screen by holding the corner of an app and dragging it inward. Users can now open apps in small windows by dragging and dropping them from the global taskbar.
Xiaomi tablets now have keyboard shortcut capabilities thanks to MIUI 13 Pad. Furthermore, the new software allows you to sync clipboard data between MIUI 13 and MIUI 13 Pad devices, the same as how you can do with an iPhone and a Mac or iPad.
Xiaomi also unveiled its new operating system versions for smartwatches, smart home devices, and smart TVs: MIUI Watch, MIUI Home, and MIUI TV. The goal of the new software, according to the business, is to "create a seamless and natural flow of material between devices."
Xiaomi claims that the enhanced experience is the result of a united software department with over 3,000 engineers.
By the end of January 2022, a stable version of MIUI 13 will be available in China for the Xiaomi 11 Pro, Xiaomi 11, and Xiaomi 11 Ultra. On the Xiaomi 12, Xiaomi 12 Pro, and Xiaomi 12X, the new version will come pre-installed.
Xiaomi also announced that global users will begin receiving MIUI 13 updates in the first quarter of 2022, in addition to the China rollout plans. The Mi 11, Mi 11 Ultra, Mi 11i, Mi 11X Pro, Mi 11X, Redmi 10, Redmi 10 Prime, Xiaomi 11 Lite 5G NE, Xiaomi 11 Lite NE, Redmi Note 8 (2021), Xiaomi 11T Pro, Xiaomi 11T, Redmi Note 10 Pro, Redmi Note 10 Pro Max, Redmi Note 10, Mi 11 Lite 5G, Mi 11 Lite, and Redmi Note 10 JE are among the first models to receive the update.