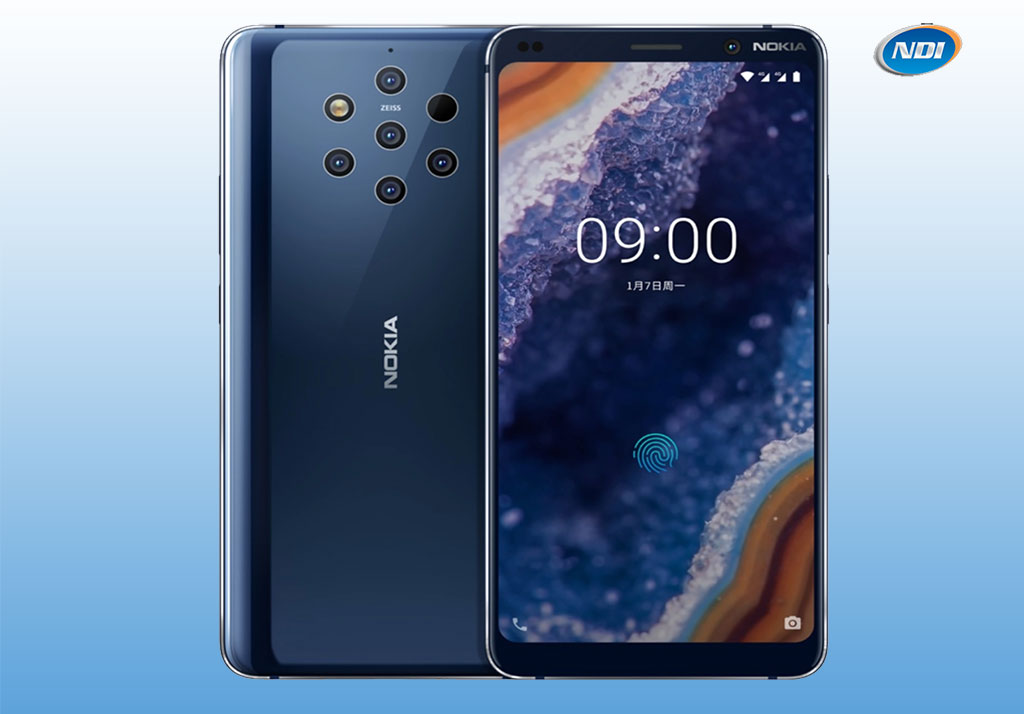 Mobile phone giant HMD Global announces the Android One Nokia 9 with 5 rear cameras at MWC 2019. MWC 2019 is the biggest mobile tech shown of the year and many companies including Xiaomi, Huawei and Nokia are participating in this show.
The Android One Nokia 9 is the latest addition in the smart-phone market and this mobile will come with 5 rear cameras. This phone will come with previous generation Qualcomm Snapdragon 845, but the real innovation is 5 rear cameras that we have not seen yet in any of the Smartphone. This phone was the central point of discussion in the MWC 2019.
At MWC 2019, HMD Global also showcased the in-screen fingerprint scanner of Android one Nokia 9. With this announcement HMD Global confirmed about the specification of Nokia 9 flagship phone with 5 rear cameras and in-screen fingerprint scanner. Various leaks posted on the internet were detailing about the upcoming Nokia 9 and now we have detailed specification of this flagship Smartphone.
Cameras of Nokia 9
Nokia 9 will come with three 12 MP monochrome f/1.8 cameras and two 12MP RGB f/1.8 cameras, with this arrangement phone will get five rear cameras. This setup provides greater ability to the phone to take high quality images. Images can also be saved into RAW DNG images which can be further exported to Adobe Lightroom for advanced editing.
Photos taken from Nokia 9 can also be Google Photos as it can recognize the depth map and it can further adjust the photos to make it clearer.
CPU
Nokia 9 will be fitted with Qualcomm Snapdragon 845 processor to provide high performance. It's CPU, GPU, DSP, and ISP combination will enable the mobile phone to process up to 240 megapixels of data.
Display
Nokia 9 will come in 5.99-inch screen with 1440×2880 pOLED display resolution and HDR10, 6000 series aluminum Gorilla Glass 5.
RAM
Nokia 9 will come with 6GB of internal RAM.
Storage
Phone will come with 128GB of internal storage.
Battery
Phone will come with whooping 3,320mAh batter with the support for Qi wireless charging.
Front Camera
Rear camera of this phone is also powerful with 20MP specification.
Operating System
Nokia 9 will come with pre-installed Android 9 Pie (Android One).
Price of Nokia 9
Nokia 9 expected price is $699 and it will be released in USA. But still there is no information about its release in other countries.