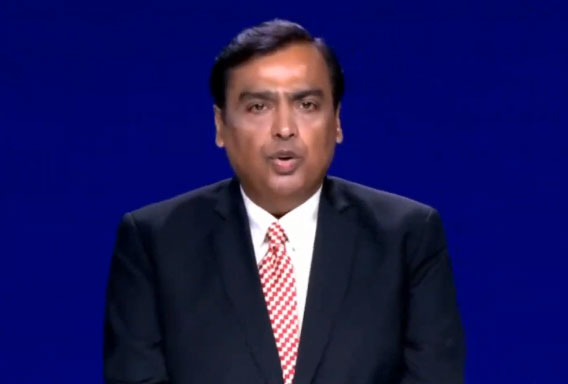 Reliance Industries Limited announces the launch date of Jio GigaFiber, the FTTH which will provide both Internet and cable TV service. The Jio GigaFiber to be launched in India on September 5 and complete details of all plans will be announced on the launch date.
The Jio GigaFiber is a fiber-to-the-home (FTTH) broadband service from Reliance Industries Limited, company announced the launch date of service in the association with Microsoft. Jio and Microsoft will together offer Azure cloud services on Jio GigaFiber network. As per company claim this services will offer unprecedented speeds. The Jio GigaFiber service will be between 100Mbps to 1Gbps, company is claiming this speed is higher than the FTTH provided in US and other countries.
The Jio GigaFiber will be available at a speed between 100Mbps to 1Gbps. Company will also offer this service to small and large organizations. Company has built strong network to provide this service across the country. Company aim is to lead the world and not to follow.
The Jio GigaFiber and Jio DTH services are highly awaited service which is announced today on the 42nd Annual General Meeting of Reliance Industries Limited.
Mukesh Amabani, Chairman of Reliance Industries Limited, said: "The response to Jio GigaFiber was simply overwhelming."
Jio GigaFiber or Jio Fiber services features:
Broadband speeds between 100Mbps to 1 GBPS over fiber-to-the-home (FTTH) broadband service network of Reliance Industries Limited
Free Landline phone
High definition entertainment over FTTH network
Live video conferencing support over its Jio DTH or Jio Set top box network
Company will provide Voice enabled virtual assistants
Powerful Interactive gaming
Company will provide Smart home solutions
Company will also provide IoT and IIoT services
Jio and Microsoft to offer Cloud services
Jio and Microsoft to offer Office 356
Jio GigaFiber will also offer cable TV services as it will allow the local cable TV operators to relay their service over Jio GigaFiber network.
Mukesh Ambani said "With Jio's upgraded infrastructure, LCOs can better DTH," Jio's 4K set top box is capable of accepting broadcast signal from LCO partner cable and relay over its network.
The Jio GigaFiber is available under trail with with a security deposit of Rs 4,500 in some selected location. This charge includes installation charge at an 100 Mbps for 90 days. In this offer Jio is giving a single-band router instead of dual-band connectivity.
Company will launch this service in September 5 across country will which offer speed between 100Mbps and 1Gbps. Company will announce plans and features on the release day on 5 September.
Reliance Industries Limited also made an investment of Rs 2,290 crores for 66 percent stakes in DEN, while company invested Rs 2,940 crores for 51.3 percent stake in Hathway.
With this announcement Jio GigaFiber is expected to change the broadband service market in country. RIL recently surpassed Vodafone-Idea to become the largest telecom operator in India.