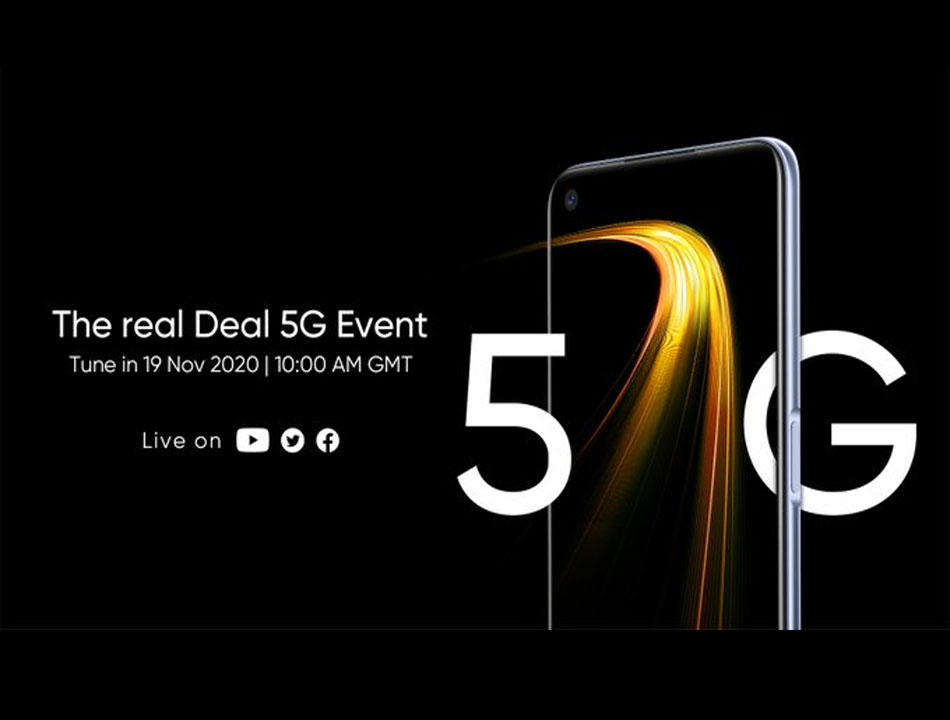 Realme announced to launch Realme 7 5G smartphone on November 19 in the UK in a virtual event. The Realme 7 5G smartphone is the latest smartphone from Realme with a huge battery with 5,000mAh capacity. The price of this phone is yet to be announced but it is expected to around $290 for the low end model. This smartphone comes with support for 30W fast charging which is a good feature for charging phone quickly.
As per the company announcement, the Realme 7 5G will be launched on November 19 in the UK and the event will be a virtual event. These days most of the companies prefer online virtual events because of Coronavirus pandemic.
The company announced the launch details through its UK Realme Twitter account and posted a poster showing the front side of the Realme 7 5G. According the post the Realme launch event will start at 19 November 2020 10:00 AM GMT. The event will be live on YouTube, Twitter and Facebook page of the company.
This event will be available to the users as live stream on the popular platforms like YouTube, Twitter and Facebook. The company yet to give the url of the live stream, but at the time of live stream user's will find the stream address on the official channel of the company on the YouTube, Twitter and Facebook.
The current model of Realme 7 includes Realme 7, Realme 7 Pro, and Realme 7i. Now the company is going to release the 5G model of Realme 7. First, it will be launched in the UK market. We don't have more details about the release of this phone in other parts of the world. After the release of this phone in the UK market the company might come up with their plan of launching this phone in other parts of the world.
The company has not reviled the specification of the Realme V5, but we were expecting more details in the form of leaks or the official word on this in coming days. The phone will have superior 5G connectivity and can be used in the countries having operational 5G networks. But according to some suggestion this phone is updated version of Realme V5.
According to the price leaks, Realme 7 5G having 6GB + 128GB storage might cost CNY 1,899 (roughly Rs. 21,400) while 8GB + 128GB storage version will cost and CNY 1,899 (roughly Rs. 21,400). Yet there is no official word about the pricing of Realme 7 5G models.
The Realme 7 5G is expected to come with the octa-core MediaTek Dimensity 720 SoC and said to be a powerful device. The primary is said to come with 48-megapixel primary sensor, while front camera might have a 16-megapixel sensor.
Phone will also come with a side-mounted fingerprint sensor, and a 3.5mm headphone jack. At the time of launch we will get to know more details about this smartphone.