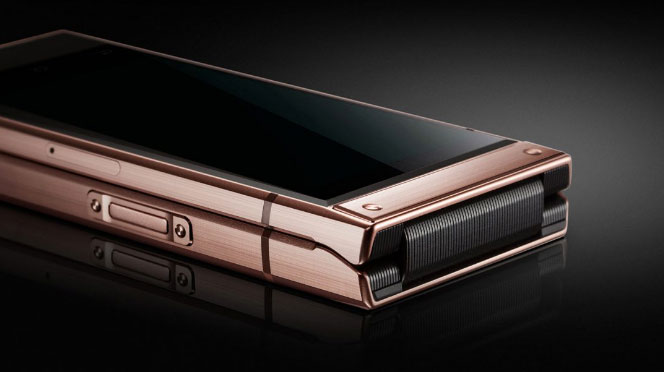 Mobile giant Samsung has finally launched its flagship phone W2019, which is a Flip Phone that comes with two AMOLED displays.
The second screen can be used by users without opening the phone which makes it easy to take calls or do simple work. Phone can be opened by flipping it and it opens the main screen where user can work and its resolution is 1920 x 1080 pixels.
Phone is powerful phone which comes with 6GB of RAM and runs on the Qualcomm Snapdragon 845 SoC. For now this phone will be available in China's retail market. Being a flagship phone it comes with very good specification.
This phone W2019 is the new phone in the line of flagship phones by company which is just launched in China market. Samsung is one the top mobile phone manufacture in the world which produces flagship phones with latest specification.
Specifications of W2019 Flip Phone
The W2019 Flip Phone is made up of premium materials and comes with two AMOLED display screens. Phone is built from anodised diamond-cut aluminium and glass which makes it quality phone.
Screen comes with a 16:9 aspect ratio and a 1920 x 1080 resolution which makes a good phone for running application which requires higher resolutions.
The W2019 Flip Phone is fitted with Snapdragon 845 SoC with 6 GB of RAM and 128 GB / 256 GB storage options.
It comes with the same camera which is used in Galaxy S9+. Phone camera come with 12MP sensor with dual f/1.5-f/2.4 aperture. Camera has telephotos lens with 2x optical zoom.
The front camera is also powerful with 8MP sensor and f/2.0 aperture.
Now let's discuss the battery capacity of this phone as battery capacity is very important in running modern phones. The W2019 Flip Phone comes with 3,070 mAh batter with a USB Type-C connector for charging the phone. This type of charging feature comes with modern phones and it is found to be very convenient.
Finally we can see the operating system which is pre-installed on the phone. The Android 8.1 Oreo operating system is installed out of the box.
The W2019 Flip Phone has a new button which dedicated to activate the Bixby Virtual Assistant directly.
Specification of the W2019 Flip Phone
Here is the detailed specification of W2019 Flip Phone:
Model: W2019
Design: Anodised Diamond-Cut Aluminium Glass
Display Size: 4.2 inch super AMOLED
Display Resolution: 1920x1080px
Processor: Qualcomm Snapdragon 845
Memory: 128 GB and 256 GB Models
RAM: 6GB
Operation System: Android 8.1 Oreo
Primary Camera: 12MP
Secondary Camera: 8MP
Battery: 3,070 mAh