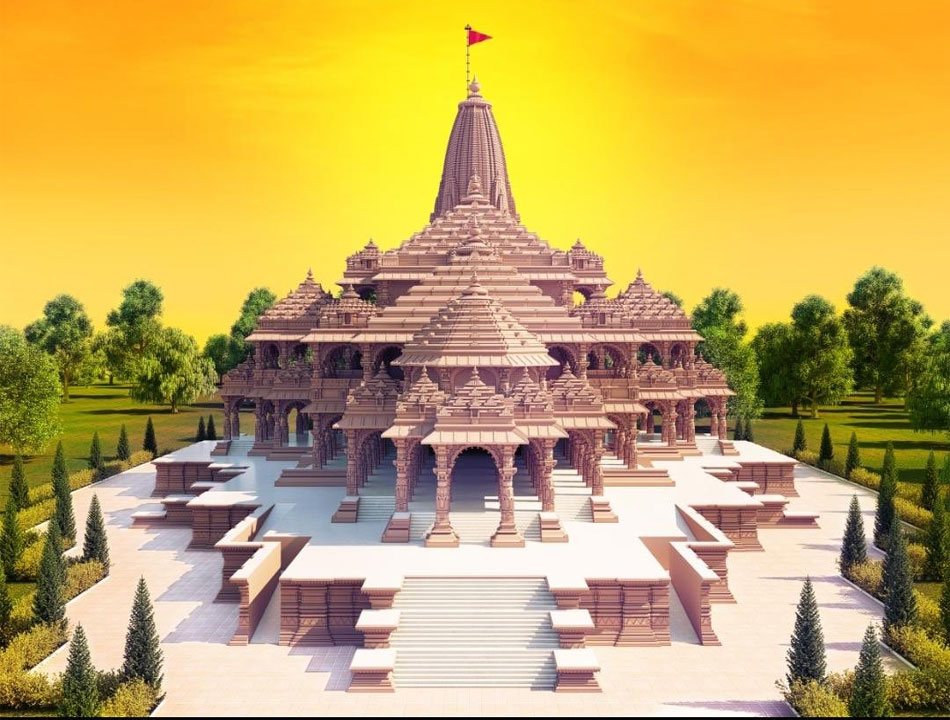 For the Bhoomi Pujan that is to be held on August 5, PM Modi along with other high profile leaders will inaugurate the Bhoomi Pujan.
The city of Ayodhya is decorated like never before so as to welcome honorable PM of India, Narendra Modi who will lay the foundation stone of the historic Ram temple. Every street, house, building and road is giving of a vibe that is no different than that of Diwali.
PM Modi will be accompanied by over 200 different high profile guests and will share the stage with leaders like Uttar Pradesh Chief Minister, Yogi Adityanath, RSS Chief Mohan Bhagwat , UP Governor Anandiben Patel and Mahant Nritya Gopal das.
Leaders like LK advandi and Murli Manohar Joshi will attend the historic event too but in a virtual manner via a video conference.
Due to the arrival of such high profile guests, the districts bothering Nepal are on a red alert and a result, security has been tightened.
With COVID-19 pandemic preventing majority of the devotees from attending the ceremony, many worshipers have made their offerings to the temple that will be used during the ritual like--
Holy water from Mansarovar
Soil of Brahmaji's peg from Bithoor
Soil from Prayarag where Chandrashekhar was martyred
Soil of Golden Temple in Amritsar
Soil and water from Nana Rao Peshwa Fort
Soil from Rameswaram
Yamunotri soil, Yamuna water
Soil from Haldighati, Rajasthan
Soil, sand of Jhansi Fort
Soil of Kanpur's Massacre Ghat
Soil from Chittorgarh
Soil of Shivaji's Fort
The ceremony is expected to last till 2 pm and the trust also assured that proper arrangements have been made to ensure that social distancing can be followed by the leaders.
It must also be noted that before reaching Ram Temple, PM Modi will offer his prayers to Lord Hanuman in a Hanumangarhi shrine in Ayodhya only because as per Hindu tradition, without remembering Lord Hanuman, no prayers can be offered to Lord Ram.
In related news, it is being said that the temple will be one of the largest in India.
"The height of the temple has now been increased from 141 feet to 161 feet while its carpet area has been increased from over 16,000 square feet to 28,000 square feet. It will be one of the largest temples in India built so far," said one of the architects.
As per earlier plans, only one single floor was said to be constructed but now a total of 2 floors will be built out of which the ground and the first floor will be for the devotees to visit and offer their prayers while the second floor will be reserved for the staff members.
From Rajasthan, a pink sanstone named Bansi Paharpur will be transported which shall be used to the construction of the walls of the temple.
The complete construction of the temple will take over hundred of crore but as of now it has been revealed that the trust only has over Rs 15 crore in its bank.
Ram Janmabhoomi Teertha Kshetra further stated "The trust has currently over Rs 15 crore in its account. Our fund collection drive was hit by the Covid-19 pandemic. We will resume it after the bhoomi pujan ceremony on 5 August. There will be no dearth of funds for building Ram Mandir. Everybody will contribute for the cause." Thus after 5th August, a major fund collection scheme will be undertaken by the concerned authorities to reach the goal of hundred crore.