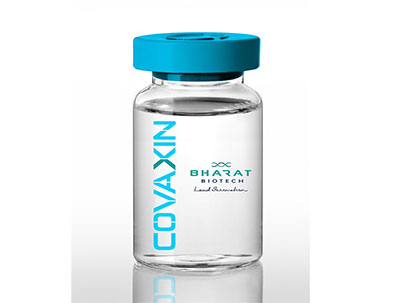 The government has been in contact with foreign governments to make travel easier for Indians who have received the Covaxin vaccine, according to Union Minister of Health and Family Welfare Dr Mansukh Mandaviya.
The government to ease travel for Indian's being vaccinated with Covaxin has been in communication with other governments., said Union Minister of Health & Family Welfare Dr Mansukh Mandaviya.
The government announced today that at present, 96 countries have agreed to mutual recognition of vaccination certificates and also those who recognise Indian vaccination certificates of travellers fully vaccinated with COVISHIELD/WHO approved/nationally approved vaccines. Consecutively, persons travelling from these countries are provided certain relaxations as enunciated in Union Health Ministry's Guidelines on International Arrivals issued on 20th October 2021.
These countries are Canada, The United States of America, Bangladesh, Mali, Ghana, Sierra Leone, Angola, Nigeria, Benin, Chad, Hungary, Serbia, Poland, The S1ovak Republic, Slovenia, Croatia, Bulgaria, Turkey, Greece, Finland, Estonia, Romania, Moldova, Albania, Czech Republic, Switzerland, Liechtenstein, Sweden, Austria, Montenegro, Iceland, Eswatini, Rwanda, Zimbabwe, Uganda, Malawi, Botswana, Namibia, Kyrgyz Republic, Belarus, Armenia, Ukraine, Azerbaijan, Kazakhstan, Russia, Georgia.
The United Kingdom, France, Germany, Belgium, Ireland, Netherlands, Spain, Andorra, Kuwait, Oman, UAE, Bahrain, Qatar, Maldives, Comoros, Sri Lanka, Mauritius, Peru, Jamaica, The Bahamas, Brazil, Guyana, Antigua & Barbuda, Mexico, Panama, Costa Rica, Nicaragua, Argentina, Uruguay, Paraguay, Columbia, Trinidad & Tobago, Commonwealth of Dominica, Guatemala, El Salvador, Honduras, Dominican Republic, Haiti, Nepal, Iran, Lebanon, State of Palestine, Syria, South Sudan, Tunisia, Sudan, Egypt, Australia, Mongolia, Philippines.
Following the instructions released by the Union Health Ministry on foreign arrivals on October 20, 2021, travellers travelling from certain countries are granted specific exemptions.
The international travel immunisation certificate may also be accessed via the Cowin portal for anyone who desires to go abroad, according to the ministry.
He also commented on the Union government crossing the 100 crore milestone doses of immunisation. He stated. "The Union government's commitment to accelerate the pace and expanding the scope of COVID-19 vaccination throughout the country has resulted in crossing the 100 crore milestone in the administration of doses on October 21, 2021,"
On Thursday, India reached a milestone of 100 crore doses of COVID-19 vaccination, marking 9 months since the campaign began. Prime Minister Narendra Modi also thanked physicians, nurses, and everyone else who contributed to the achievement.
He tweeted, "India scripts history. We are witnessing the triumph of Indian science, enterprise and collective spirit of 130 crore Indians. Congrats India on crossing 100 crore vaccinations. Gratitude to our doctors, nurses and all those who worked to achieve this feat."