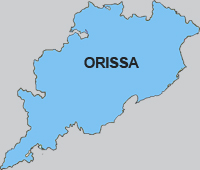 Nonstop rain in the last few days in Odisha has disrupted normal life in several parts of the state. The Met Department has forecasted heavy rainfall in the next 24 hours, as state government has announced Friday – a holiday for schools in few districts, including Bhubaneswar.

Because of the low pressure concentrated over Bay of Bengal that has now intensified into depression, has caused heavy rainfall in many districts, including Jagatsinghpur, Puri, Cuttack, Kendrapara, Jajpur, Bhadrak and Khurda.

Waterlogging and traffic jam have been reported in cities like Puri and Cuttack, where drainage systems are in dismal state. Cuttack has been flooded with two-feet high water flowing on the otherwise busy roads of Badambadi area.

As per report, the water level of Indravati Dam, under the Nabarangpur district, is increasing with constant rain. While no alarm has been raised on the water level of any major river, Baitarani river was approaching danger mark.

For last few days, rain has also disturbed the normal supply of electricity in many parts of the state.

Meteorological Centre in Bhubaneswar had already released heavy rainfall warning for Thursday, while stating that extremely heavy rain will continue for the next 24 hours.

Looking at the safety of students, the Chief Minister of Odisha has declared Friday (September 7) a holiday for all the schools in Bhubaneswar, while all rural child care centres (Anganwadis) across the state will remain closed. For other districts, depending on the local weather condition, collectors will take decisions.

The Regional Meteorological Centre has however said that the depression that has turned into deep depression will be gradually weaken in the next 24 hours as it moves north-west.