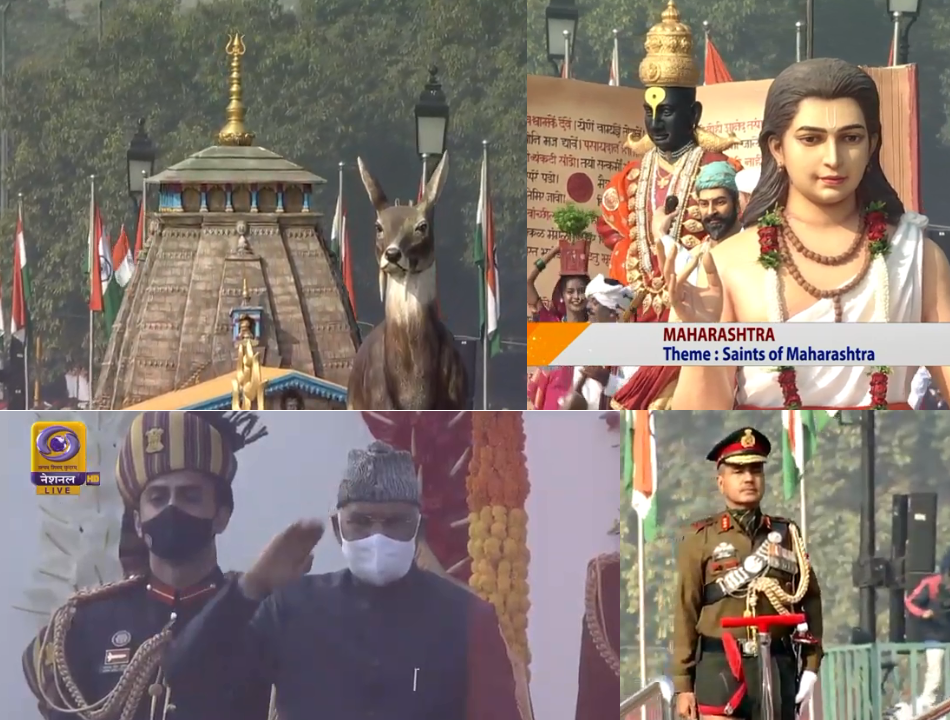 India Celebrates its 72nd Republic Day with shortening of the various programs due to ongoing Covid Pandemic in the Country. During the celebrations held at Rajpath in Delhi, various programs are held with reduced of events, no chief guest and very low number of visitors as compared to the previous celebrations.
The Celebration of 72nd Republic Day being at 9am and concluded with the traditional fly past by Indian Airforce at 11.25 am. During the program no children under the age 15 were allows in the annual parade, while fewer solders from the Army and Navy participated in the celebrations.
Highlights of 72nd Republic Day Celebration:
No chief guest
Reduced list of events
Shorter route for parade
Less spectators as compared to previous celebrations
Fewer soldiers both from Army and Navy contingents participated
Rafale fighter jets took part in the flypast
Armed cases showcased its T-90 tanks
During the celebrations India showed its military power on the Rajpath, Rafale fighter jets took part in the Republic Day flypast, forces displayed T-90 tanks, Sukhoi-30 MKI fighter jets also took part part and Samvijay electronic warfare system were also showcased. Due to ongoing Covid-19 Pandemic various programs were shortened to maintain the Covid-19 protocol.
India showcased its rich cultural heritage and economic process during the celebration. During the Republic Day Parade 17 tableaux from states and union territories participated the celebrations. During the celebrations nine tableaux from Union ministries and paramilitary forces took part in the celebration of India's 72nd Republic day parade, while defence ministry displayed six tableaux.
During the Republic Day flypast India showcased Rafale fighter jets, which were recently inducted last year in the Indian Air Force (IAF). Rafale fighter jets showcased in ''Vertical Charlie'' and "Eklavya" formation during the Republic Day celebrations.