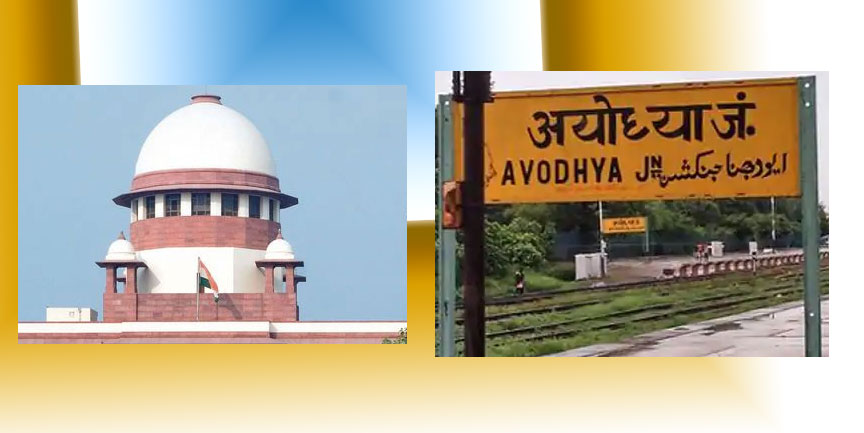 Supreme Court of India is pronouncing verdict in Ayodhya case a this moment. A constitution Bench led by Chief Justice of India Ranjan Gogoi is pronouncing judgement in Ayodhya case. This verdict is coming after a 40-day intensive hearing in Supreme Court. It is to be noted that Chief Justice Gogoi is retiring on November 17.
It will take around 30 minute to speak out this unanimous verdict.
Elaborate security arrangements have been made across the country in the sensitive areas to maintain peace in the Country. All schools and colleges will remain closed on Saturday in Delhi, UP, Karnataka and other states on Country.
Elaborate security arrangements are have been made in Ayodhya and other sensitive places in Country.
A Constitution Bench led by Chief Justice of India Ranjan Gogoi will on November 9 deliver its judgment in the cross-appeals filed by the Hindu and Muslim sides challenging the three-way partition of the disputed 2.77 acres of Ramjanmabhoomi-Babri Masjid land among Ram Lalla, Nirmohi Akhara and the Sunni Waqf Board in September 2010.
The Bench hearing this case comprised of Chief Justice Gogoi, Justices S.A. Bobde, D.Y. Chandrachud, Ashok Bhushan and S. Abdul Nazeer.
The hearings for this case begins in Supreme Court on August 16 after mediation attempt between the parties failed. The Ayodhya case is second longest heard case in the Supreme Court.
The Center is holding the acquired land as per the Ayodhya Act of 1993, which includes the disputed land, as a non-partisan, statutory receiver.
The main arguments by Hindu side are that the said place is birth place of Lord Ram. According to the arguments by the Hindu side Lord Ram birth place is exactly at the same place where central dome of Babri Masjid. The mosque was demolished by kar sevaks in 1992 on December 6.
According to the writing of Skanda Purana, the Ramjanmabhumi is the place of special religious importance to the Hindus.
The photographs from the Archaeological Survey of India excavations also presented in the case to prove that large religious structure pre-existed the Babri Masjid. It is said that the Mughal Emperor Babur demolished the temple there to build the mosque.