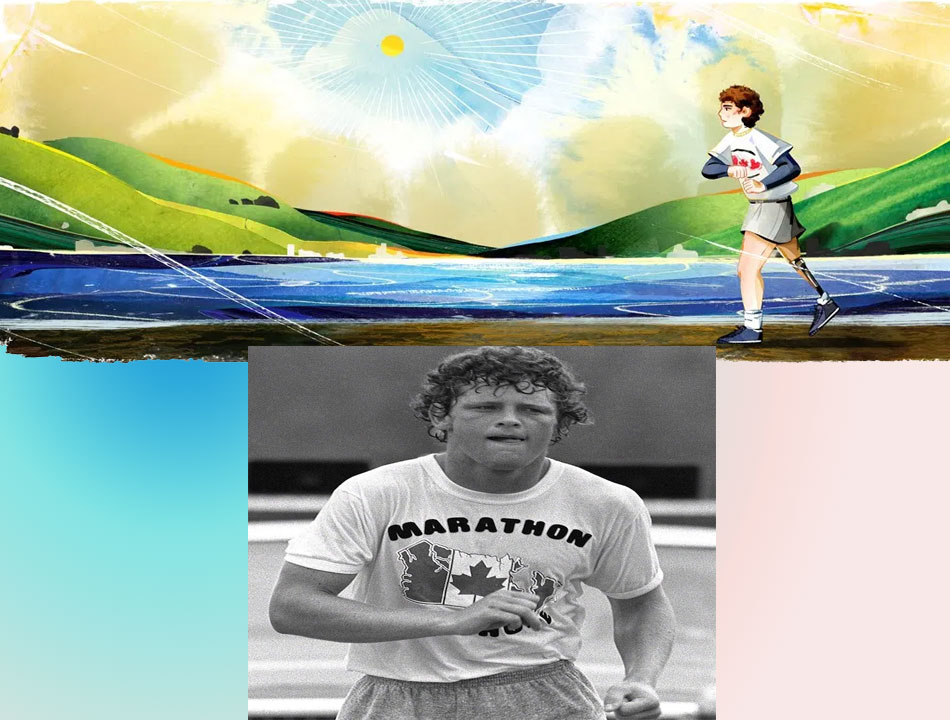 Google is honoring famous Canadian athlete and cancer activist Terry Fox by placing a photo on the homepage of Google Search. Today Google Doodle is appearing on the Google search home page which is displaying the picture of Canadian athlete and cancer activist Terry Fox. This is the inspirational Doodle honoring Terry Fox.
Terry Fox was born on July 28, 1958 in Winnipeg, Manitoba, Canada. He was participating in various sports activities including athletics, basketball, soccer, and distance running. He was a brilliant player but at an age of 18, Terry Fox was diagnosed with bone cancer in his right knee. Due to this his right leg was amputated.
After amputation he continued with the sports, and used to run using an artificial leg. He won three national championships in wheelchair basketball in Vancouver. He was an inspirational player and cancer activist.
Terry Fox decided to continue running and keep encouraging the people to donate money for cancer research.
In 1979, Terry Fox said "I soon realized that that would only be half my quest, for as I went through the 16 months of the physically and emotionally draining ordeal of chemotherapy, I was rudely awakened by the feelings that surrounded and coursed through the cancer clinic. There were faces with the brave smiles, and the ones who had given up smiling. There were feelings of hopeful denial, and the feelings of despair. My quest would not be a selfish one. I could not leave knowing these faces and feelings would still exist, even though I would be set free from mine. Somewhere the hurting must stop….and I was determined to take myself to the limit for this cause."
After amputation and recovery, Terry Fox underwent physical training with his artificial leg. Later on he participated in a public marathon. Soon after the marathon, he announced to his family that he would run from Canada east to west. He started his "Marathon of Hope" on April 12, 1980 from the shore of the Atlantic Ocean. He was running (26 miles) per day accompanied by brother and a friend supporting a van.
He cut short his marathon on the 143th day after covering over 3,339 miles due to a medical emergency and shifted to the hospital. It was found that the cancer has spread to his lungs and he wouldn't be able to resume the Marathon of Hope.
Following the tragic news, fundraising events were held to honor the great runner and over $23 million fund was raised for cancer research.
In less than a year Terry Fox died on June 28, 1981. Today, Google is remembering the cancer activist Terry Fox by replacing home page logo.