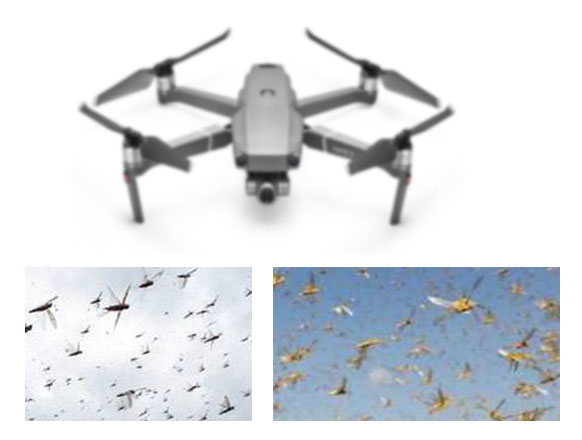 Engine run drones that offer 3 times the flight time and carry about 60% more pesticides to be used to get rid of swarms of locusts.
India becomes the first country to fight locusts by using drones. The ministry approved for drones to be used at night when these insects are inactive. The speciality of these drones is that they will be fueled by an engine rather than being run on battery.
In a statement, Agricultural Ministry said "India is the first country to control locust by using drones after finalising the protocols and getting all statutory approvals. Major operations are concentrated in Rajasthan where maximum resources are committed."
United Nations' Food and Agriculture Organisation also praised Indian agricultural department for using an innovation of technology to combat the crop eating insects.
The data released by the ministry also indicated that the Northern states of the nation like Uttar Pradesh, Haryana and Rajasthan are the worst affected. Thus, the swarm of locusts are being tracked by the agricultural departments of these states along with Central Locust Warning Organisation officials.
The worst affected states are Haryana and Uttar Pradesh, therefore the control teams of Rajasthan will assist them too.
The drone that will be utilized will weigh around 50Kg with its payload. Earlier, the limit to it was 25kg. Above all, these drones are capable of carrying 60% more pesticides while offering three times the flight time in contrast to its preceeding drones.
As of now the Ministry has about 12 drones in the western and central states and another 13 will be added by the ministry after striking a deal with 5 drone manufacturers. These drones will be used to spray pesticide where normal humans and motors cannot reach like the top of a tree.