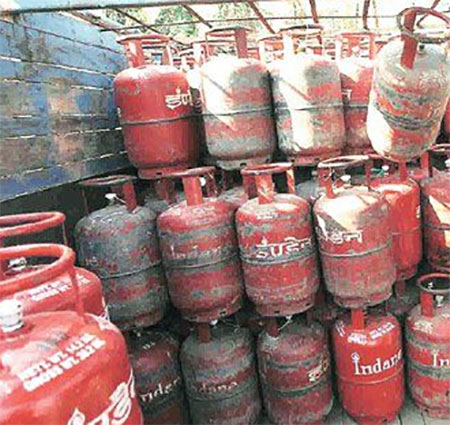 The rates of domestic cooking gas (LPG) got increased by rupees two. This was the second time increase in rates from November 1,2019. The petroleum ministry said the increase is due to the tax impact on the change in the base price of LPG. Since June, the LPG rates have gone up by Rs. 16.21 per cylinder for those who get subsidy. With the new prices the cylinder will now cost Rs. 507.42 from previous price of Rs 505.34.
Rates will be different from state to state deepening on local taxes and transportation cost. In cities like Mumbai, 14.2 Kg LPG cylinder now cost RS 505.05 and in other states like Chennai and Kolkata the price is Rs 495.39 and RS 510.70. The ministry also said the establishment charges will also vary on the size of cylinder. The rates will be Rs.30.08 as establishment charges and Rs. 20.50 will be delivery charges. New dealer price for 5 kg cylinder have been fixed by amount of Rs. 15.04 and Rs 10.25 as delivery charges.
It is also said the customers who collect their refills from the distributors will not have to pay any delivery charges. According to the government policies subsidy of 12 cylinder of size of 14.2 kg per house will be refunded in bank account of users directly. Although subsidy will vary from time to time depending on the LPG rate change and foreign exchange rates.
If the international prices move up, the government will provide subsidy according to the prices. AS per the tax rules on GST rates of LPG will be calculated at the market rate of the fuel. The government may choose to subside a part of the price, but taxes will have to be paid by the going on market prices. Earlier the market price Of LPG cylinder was Rs. 939, the rates were effectively increased by Rs.60 per cylinder on November 1,2018. Now because of the rise in dealer commission, the price is now Rs.942.50 per 14.2 Kg cylinder.