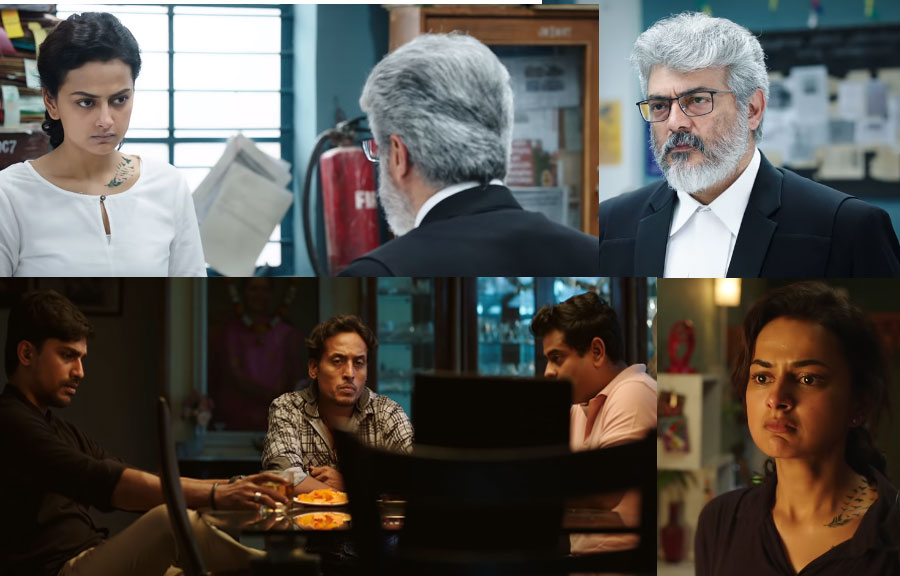 Nerkonda Paarvai box office collection on Day 5 reaches 70 Crores, Huge success in last week, first day of this recorded a lower collection. On the first day of second week movie is able to collect Rs. 10 Crores, which is less then Sunday collection due to working day.
By day 5, Nerkonda Paarvai movie collection reached over 70 crores. Ajith Kumar's Nerkonda Paarvai Tamil movie is doing well in cinema halls in Chennai and in other parts of India. Film is also being screened in other parts of world. Nerkonda Paarvai box office collection on Day 5 reaches over 70 crores in four days. Movie was launched this Thursday on 8 August in over over 470 screens in Tamil Nadu. Nerkonda Paarvai first day was fantastic with approximately Rs 18 crore collection in opening day. Film is doing very well in cinema halls in South India.
There are very positive reviews about this movie by the views in the various states. Early estimate was about Rs. 24 core in Tamil Nadu.
In Chennai alone movie collection reaches over Rs. 5.5 crore in four days. Movie is doing very well and there are many positive reviews about this movie on the social websites.
Day wise collection:
Day 1 collection: Rs. 18.60 Cores
Day 2 collection: Rs. 11 Crores
Day 3 collection: Rs. 15 Crores
Day 4 collection: Rs. 16 Crores
Day 5 collection: Rs. 10 Crores
Total till now: Rs. 70.60 Crores
This movie is doing well in Tamil Nadu as well in Karnataka.
In Kerala usually Tamil films do very well, but these days state is badly hit by heavy rains. Due to rains films are not doing well in these places for last few days.
The Tamil movie Nerkonda Paarvai is a remake of Hindi hit film Pink and the story of this film is revolves around three modern womes falsely accused of a crime.
In this movie Ajith plays a role of lawyer who rescues these women.
The Tamil movie Nerkonda Paarvai is badly hit by privacy and the illegal copies surfaces online. So, due to this collection the movie is hit a lot.
The Nerkonda Paarvai is a Tamil remake of super hit Hindi movie Pink. The Nerkonda Paarvai stars Ajith, Shraddha Srinath, Abirami Venkatachalam and Andrea Tariang in the lead roles. Film is directed by H Vinoth and produced by Boney Kapoor.
This movie is also dubbed and released in two other South Indian languages, the Kannada and Malayalam.
Casts of Tamil movie Nerkonda Paarvai:
Ajith Kumar as Bharath Subramaniam
Shraddha Srinath as Meera Krishnan
Vidya Balan as Kalyani Bharath Subramanian (guest appearance)
Andrea Tariang as Andrea Tariang
Kishen Das as Andrea's boyfriend
Abhirami Venkatachalam as Famitha Banu
Arjun Chidambaram
Adhik Ravichandran As Vishwa
Ashwin Rao
Sujith Shankar as Gavaskar
Rangaraj Pandey as Sathyamoorthy
Delhi Ganesh as Krishnan
Junior Balaiah as Bharath Subramaniam's assistant
Uday Mahesh as Deepak
Jeya Prakash
D. Ramachandran as Judge
Mathew Varghese as Zakir
Dinesh P Nair
Kodhanda Raman
Kalpana Sri as Police Inspector
Kumara Gurubharan
Mai.Pa. Narayanan
KK menon
Kalki Koechlin special appearance in song "Kaalam"
Yunohoo special appearance in song "Kaalam"
This did very weill in weekends and reached Rs. 70 Cores by Day 4. This movie is unstoppable and showing upward trends in collection in last week. Movie is going to be one of the successful movies and it is expected to make high collection in coming week. On Monday collection was Rs. 10 Crores only due to working weekday and Eid-ul-Adha 2019 festival.