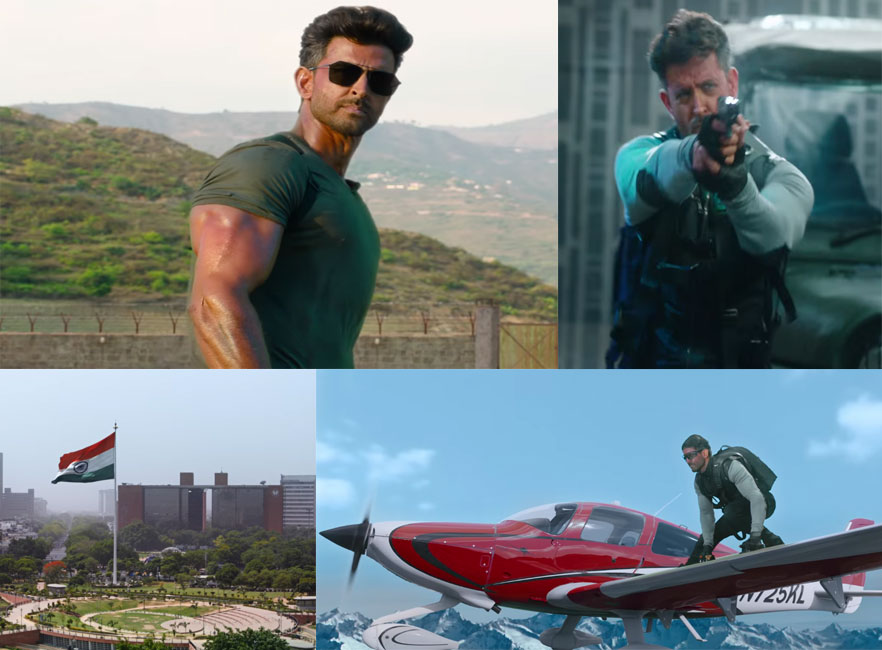 Hrithik Roshan, Tiger Shroff starrer which was launched in box offices in India on October 2, is doing very well and crossed 100 crore marks in just 3 days. As expected earlier, this movie is doing very well in Hindi and expected to soon enter into 300 crore club in coming weeks.
Hrithik Roshan, Tiger Shroff starrer hit box office on October 2 and in just 3 days entered into 100 crore club. As per the predictions by market researched make earlier this move collected over 51 Crore on the first day. The amount of Rs. 50 crore is said to a bumper opening in the Bollywood. So, War movie hit Indian market with a bumper opening of Rs. 50 Crore. This movie entered into 100 crore club in just 3 days which a big success for any Bollywood movie.
The top stars in the moves are Hrithik Roshan, Tiger Shroff and Vani Kapoor. Vani Kapoor can be seen in important role in the movie. As per expectation his movie is doing very good performance in the box offices.
War Movie collection details:
Hindi Version:
Day 1: 51.60 Crore
Day 2: 23.10 Crore
Day 3: 21.30 Crore
Total: 96 Crore
Tamil and Telugu Versions:
Day 1: 1.75 Crore
Day 2: 1.25 Crore
Day 3: 1.15 Crore
Total: 4.15 Core
Overall collection of War movie by day 3: 100.15 Crore.
#War#Hindi: Wed 51.60 cr, Thu 23.10 cr, Fri 21.30 cr. Total: ₹ 96 cr.#Tamil + #Telugu: Wed 1.75 cr, Thu 1.25 cr, Fri 1.15 cr. Total: ₹ 4.15 cr.
Total: ₹ 100.15 cr#India biz.

— taran adarsh (@taran_adarsh) October 5, 2019
The advance movie ticket booking for the upcoming War movie already started before the release of movie. This movie landed in box offices on October 2 i.e. Gandhi Jayanti. There is no major Hindi movie running in the box office, so it is performing very well in the cinema halls across the country.
The War Hindi movie is a dramatic movie with lots of fun and lot of actions inside the movie. Movie is expected to do very well on the box office in India.
The advance ticket booking trends show a positive trend for this movie. People can book tickets online through various tickets booking websites. People can also buy tickets by visiting cinema halls near to their place.
Film is already entered in Rs. 100 crore just in 3 days. Movie collection is expected to show upward trend on Saturday and Sunday.
According to the trade analyst Umesh Kherajani, the War movie is expected to become second biggest opener of 2019 after Salman Khan starrer Bharat. Umesh Kherajani posted a message regarding this movie on his blog which says "I am predicting the opening day collection to be in the range of 36-40 crores."
The War movie is Hindi film directed by Siddharth Anand and produced by Aditya Chopra under his banner Yash Raj Films.
Cast of the War movie:
Hrithik Roshan as Kabir
Tiger Shroff as Khalid
Vaani Kapoor
Ashutosh Rana as Colonel Luthra
Dipannita Sharma
Anupriya Goenka
The War Hindi movie is being played in more than 4000 screens across the country. The War movie is released in Hindi, Tamil and Telugu across cinemas halls in the country.
The War movie is doing very well and as per the market researches it is expected to enter into Rs. 300 Crore club in just few weeks.