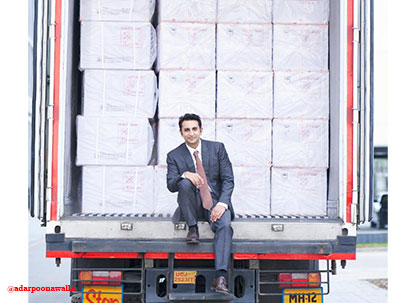 CEO Adar Poonawalla of COVIShield producer Serum Institute of India announced Tuesday that SII is intending to develop a vaccine for children under the age of 18.
COVIShield manufacturer Serum Institute of India CEO Adar Poonawalla said Tuesday that SII is planning to launch a vaccine for those under the age of 18 "all the way down to the age of three" within the next six months, citing the opening of schools across the country as evidence of the need for the Covid vaccination drive to cover children.
Poonawalla said the vaccine, Covovax, is currently being tested during a virtual conference for the 27th CII Partnership Summit 2021.
"We are going to be launching a vaccine in six months for children all the way down to the age of three. At the moment, Covishield is not recommended or approved in people below the age of 18 so that's why Covovax is under trials and has shown excellent data all the way down to the age group of 3," he said.
While the impact of Omicron on youngsters has yet to be evaluated, Poonawalla claims that the strain has not had a particularly negative impact on them thus far. "I think their body, cells and their lungs recover better and fortunately the panic isn't there for children," he said.
Two Indian businesses have been granted licences for children's vaccines, which will be accessible soon, according to the statement. Poonawalla said: "you should take and get your children vaccinated. There is no harm, these vaccines have been proven to be safe and efficacious and all of that. If you feel you want to get your children vaccinated, by all means, wait for Government announcements on that, and you go ahead with that. Our vaccine Covovax will be launched for children in six months."
Mansukh Mandaviya, the Union Health Minister, told Parliament on December 3 that the Government will make a decision based on the advice of its two primary expert panels on vaccine administration.
Cadila Healthcare's ZyCoV-D has been licenced by the Central Drugs Standard Control Organisation (CDSCO) for limited usage in emergency settings in people aged 12 and up.
In July, a CDSCO expert panel recommended that SII be granted approval to begin phase 2/3 Covovax trials on children aged 2 to 17 years with specified circumstances. SII is now enrolling 920 children aged 3 to 17 in Phase 2/3 clinical trials.
The agency is presently reviewing a recommendation from an expert group to grant emergency use authorisation for Covaxin based on interim Phase 2/3 clinical trial data provided by Hyderabad-based Bharat Biotech on healthy volunteers aged 2 to 18 years.
Biological E Ltd is also conducting Phase 2/3 clinical studies of SARS-CoV-2 gene RBD in 624 children aged 5 to 18. In addition, as part of a global clinical trial, Johnson & Johnson is undertaking Phase 2/3 clinical trials of its 'Ad.26COV.2S' vaccine in the age group of 12-17 in India.
India had delivered 134.57 crore vaccinations as of Tuesday, with 82.07 crore initial doses and 52.49 crore second doses.