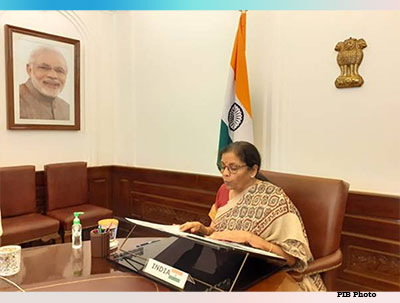 The violence in Lakhimpur Kheri, in which four farmers were killed, is "absolutely condemnable," according to Finance Minister Nirmala Sitharaman.
The violence in Lakhimpur Kheri, in which four farmers were killed, is "absolutely condemnable," according to Finance Minister Nirmala Sitharaman, who also stressed that similar issues are occurring in other parts of India and should be raised when they happen, not when it suits others because Uttar Pradesh is governed by the BJP.
Ms Sitharaman was replying to a question regarding the murders of four farmers in Lakhimpur Kheri and the arrest of Ashish Mishra, son of Union Minister of State for Home Ajay Mishra, during a talk at Harvard Kennedy School on Tuesday.
She was questioned about why the prime minister and top ministers had said nothing about it, and why there is a "defensive reaction" when such issues are raised.
She said, "No, absolutely not... It's nice of you to have picked up that one incident which is absolutely condemnable, every one of us says that. Equally, there are instances happening elsewhere, is my concern."
"India has issues of such nature happening in very many different parts of the country equally. I would like you, and many others, including Dr Amartya Sen, who all know India, to raise it at every time when it happens, not just raise it when it suits us because it's a state where BJP is in power, one of my cabinet colleague's son is probably in trouble, and also assume that it's actually them who did it and not anybody else. Due course of justice will also have a complete inquiry process to establish it," she added.
"And it's not being defensive about my party or my Prime Minister. It's being defensive about India. I will talk for India, I will talk for justice for the poor. I will not be mocked at. And if it is mocking, I will be defensive to stand up and say 'Sorry, let's talk on facts''. That's my answer for you," she said.
Following accusations that he was in one of the cars that mowed down four farmers opposing UP Deputy Chief Minister Keshav Prasad Maurya's visit on October 3, Ashish Mishra was identified in an FIR.
Ms Sitharaman responded to a query about the farmers' demonstrations by saying that the three acts that the government enacted had been debated by several parliamentary committees for over a decade.
"When the farm laws were brought in the Lok Sabha, there was an elaborate discussion and the agriculture minister gave his reply as well. It was only when it came to the Rajya Sabha, there was a lot of noise and disturbance," she said.
Since November 26 last year, tens of thousands of farmers from Punjab, Haryana, and other states have been demonstrating on Delhi's different borders, demanding the repeal of three agricultural regulations imposed in September.
These farmers have labelled these regulations as "anti-farmer," claiming that they would pave the way for the removal of the minimum support price system, leaving them at the mercy of huge companies.
She stated that the administration has shown its willingness to negotiate with the protestors and has engaged with them.