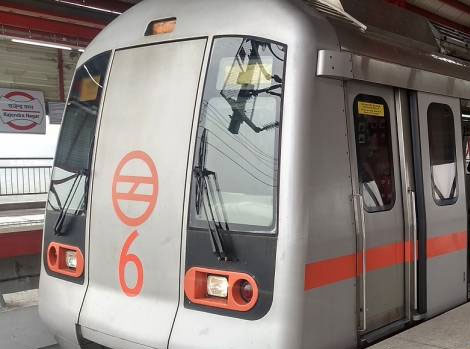 On Tuesday, 21st May, heavy difficulties were faced by the metro passengers traveling via yellow line; the second busiest metro line. The power supplying wire disconnected at 2 points, between Qutub Minar and Sultanpuri Station implying to failure of power supply and stoppage of 2 metro trains in between.
This happened during peak hours (9:27 am), the trains were filled with travelers overwhelmingly. When power supply was not enabled for long, passengers started to panic and called helpline numbers. At last, at 9:45 am, the process of deboarding the passengers started; one by one the passengers were made to exit from the emergency gates. Special help was provided to 11 passengers which included the specially abled, ill and elderly. The train was stuck in the center of platforms, thus the passengers had to walk on the elevated track, during the sun, for 500 meters to the nearest station.
• Passengers deboarded via emergency gates of metro because of service failure and had to walk on the elevated track for around 500 meters
• A truck was arranged to carry the passengers to their respective destinations
Around 5600 passengers were there in two trains. 2600 passengers, who were there in the train which stopped in between Qutub Minar and Chhattarpur Station were sent to Qutub Minar station, while those 3000 passengers who were there in the train stuck in between Chhattarpur and Sultanpur were sent to Chhattarpur station. The trains were heavily filled, it took around 1 hour and 30 minutes in the process of getting the passengers out of their respective trains. Such a heavy number of passengers, coming out of the stations, led to jamming of MG Road. Even though 29 feeder buses were there waiting for the passengers, they could not carry them all because of the heavy number of passengers.
Other trains on this route were also stopped and slowed down, because of which a huge number of people got extremely late for their office, and other places where they were heading. Students were complaining as they had their exams.
At 10 am, 2 maintenance teams were sent with 16 officials in for reparations of the broken wire. At 1:30 pm the metro services resumed.
CM Arvind Kejriwal ordered Minister Kailash Gahlot (transport minister of Delhi) for the report of metro breakdown, showing his utter disappointment. Kailash Gahlot asked for the breakdown report from Mangu Singh (DMRC Managing Director) and showed his disappointment regarding the metro service failure.