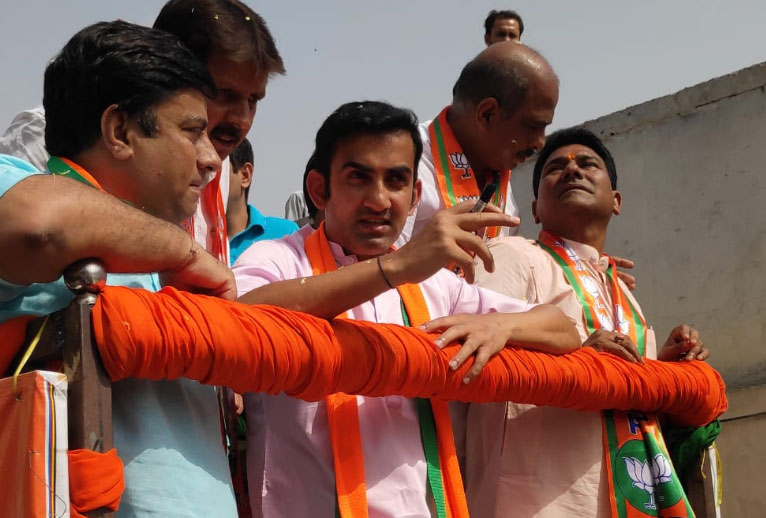 Famous cricket play and first time politician Gautam Gambhir wins East Delhi Lok Sabha seat by defeating AAP's Atishi by margin of 391222; Election commission just release final result of East Delhi Lok Sabha seat.
Gautam Gambhir, cricketer-turned-politician joined politics and named for the BJP candidate from East Delhi Seat. He joined Bhartiya Janta party last month and now elected by voters of Delhi for East Delhi Lok Sabha seat.
AAP's Atishi was contesting against him, Gautam Gambhir defeated AAP's candidate by 3.9 lac votes margin.
During the election campaign Gambhir launched full-blown counter on Twitter and other medium, he called calling AAP chief and Delhi Chief Minister Arvind Kejriwal "filth". He also accused AAP for circulating pamphlets in a desperate bid to win. During election campaign he also declared to quit politics if allegations on him were proven.
Now cricketer-turned-politician wins the election with very high margin.
BJP is now heading towards major victory in history; BJP is also going to secure huge results in Uttar Pradesh.
Elections were held in 542 of the 543 Lok Sabha seats were held in last 2 months across the country. Indian general Elections is one of the largest elections in the world were over 900 million voters casted their votes to elect candidates from over 8,000 candidates.
According to the sources over 4,000 votes counting centers has been setup in county for counting of votes. Counting of the votes is being done under heavy security deployment.
Voting for the Lok Sabha Election 2019 was completed in seven phases to elect candidates from over 8,000 candidates. The day of results has arrived and counting of vote is beginning today at 8am. In the Lok Sabha Election 2019 over 67 percent of India's 90.99 crore electors had cast their votes to elect 542 candidates for 2019-2014 Lok Sabha.
Election commission have not reviled on the number of vote counting centers, but according to the sources over 4,000 would have been setup across the country for counting of votes.
BJP is already crossing the 300 marks and now ready to make next government for 5 years. PM Modi will get second term.
India gave full majority to BJP and PM Modi is all set to make govt. for next 5 years. Today, during Victory celebration thousands of BJP members came to BJP HQ in New Delhi, where PM Modi and other party members present.