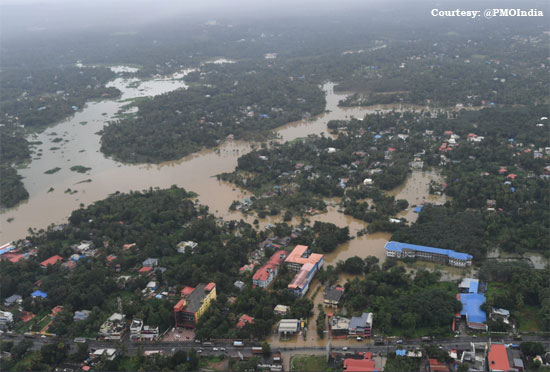 The southern Indian state of Kerala is facing the worst ever monsoon in over a century. Many of the districts are under the threat of flood as death toll climbs above 300and over three lakh people have been displaced from their homes.
As per latest reports, Red Alert has been issued for today in 11 districts where heavy rainfall predicted for the day in all districts except Thiruvananthapuram, Kollam and Kasaragod. Similar trend might continue for tomorrow.
As per the reports of Meteorological Department, situation might improve further from Monday, 20th August.
Prime Minister Shri Narendra Modi today reviewed the flood situation in Kerala during his meeting with Chief Minister Pinarayi Vijayan and other state officials. The central government has now announced a financial assistance of Rs. 500-crore in addition to the 100-crore announced earlier.
PM Modi has also assured the state government that all kinds of help, including medicine, food grains and basic infrastructure needs would be provided as needed.
Centre is providing all possible assistance to Kerala. This includes financial assistance, providing food grains and medicines. We have asked the NHAI, NTPC, PGCIL to render all possible assistance and cater to basic infrastructure needs in the wake of the floods.
— Narendra Modi (@narendramodi) August 18, 2018

People from all walks of life are extending financial help by contributing to the chief minister's relief fund of Kerala. Actors like Siddharth and Varun Dhawan have encouraged people to make financial donation by tweeting to their followers.
In many cities, NGOs and volunteers have opened collection centres to channelize monetary donation and in kind. You just need to check the very basic items needs – such as bedsheets, blankets, tooth brush, paste, mosquito coil, dish washing liquid, Dettol, utensils, clothes, etc. – anddrop those at your nearest collection centres.
YOU CAN ALSO DONATE BY VISITING Chief Minister's Distress Relief Fund KERALA.
Amazon India in coordination with NGOs
Online shopping platform Amazon has also asked volunteers from around the world to order relief materials and the company would taker care of the delivery in coordination with three NGOs: Habitat for Humanity, World Vision India, and Goonj.
The Amazon page dedicated to the relief efforts in Kerala reads:
"Torrential rain has hit Kerala with the result that there have been landslides and a grim flood like situation. Lakhs of people have been affected and are living in relief camps. Amazon is working with implementation partners and state/national disaster coordination committees to support those affected by the flood. We believe that with your support, we can play an important role in mitigating the effects of the disaster and provide immediate relief to victims."
You can select any one of the three NGOs listed and then select products, add to cart, proceed to check out and select a gift registry address, then complete the payment.
Paytm your donation
Paytm App has also given an option "Kerala Flood" to its users to donate to the Kerala CM's Distress Relief Fund. You may just want to select the right option and make your donation.
The company in a note has also announced: "Kerala needs our help! Every contribution you make, Paytm will match it Rupee for Rupee."
For anyone who wants to contribute directly to the CM's fund, please follow the account details:
Account number: 67319948232, Bank: State Bank of India, Branch: City branch, Thiruvananthapuram, IFS Code: SBIN0070028PAN: AAAGD0584MName of Donee: CMDRF
--Deepak Kumar