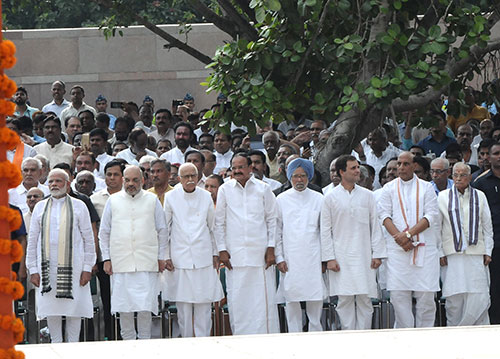 Former Prime Minister (PM) Atal Bihari Vajpayee was accorded with full State Honours Funeral, as thousands of people mourned over the loss of one of the most intellectual Prime Ministers. It was a rare sight to witness a sea of people walking with the mortal remains of the political personality in this era, when politicians are mostly spoken ill about. The cremation took place at Smriti Sthal, situated on the banks of river Yamuna in Delhi. The funeral pyre was lit, or aptly the Mukhagni was given by Namita Bhattacharya, the adopted daughter of the BJP stalwart. The leader was given Gun Salute as officers from defence, many political leaders, as well as, other famous personalities lined up to pay their last tribute to the charismatic man.
The Former PM breathed his last on August 16, 2018 at about 5:05 PM in AIIMS, Delhi after fighting prolonged ailments. Atalji was 93 years old when he passed away and is survived by his foster daughter Namita Kaul Bhattacharya, as well as, the son-in-law Ranjan Bhattacharya, who were there with him, throughout his ailing phase and till his cremation. The mortal remains of the great leader was kept at his residence in the morning and then shifted to the BJP Headquarters for allowing visitors to pay their last respect and then from there his last journey took off. Present PM Narendra Modi and BJP President Amit Shah also walked beside the Atalji's coffin, as it travelled amidst a crowd of common people, who had gathered to catch the last glimpse of their favourite national leader. The centre has declared seven days of state mourning and some of the states have also announced holidays in their respective regions as a mark of homage to the former poet Prime Minister. The National Flag will be flown at half-mast during the mourning phase as a custom.
Apart from national leaders, many Foreign dignitaries also attended the funeral of Bharat Ratna conferred PM. Among them were the Bhutan's King Jigme Khesar Namgyel Wangchuck, Nepal Minister for Foreign Affairs Pradeep Kumar Gyawali, Bangladesh Foreign Minister Abul Hassan Mahmood Ali, Pakistan's acting Law and Information Minister Ali Zafar, Sri Lanka's acting Foreign Minister Lakshman Kiriella, and Former Afganistan President Hamid Karzai. A seven kilometre route was set for the last journey for Atalji's Cortege and despite extremely humid weather conditions thousands of young and old admirers joined the procession, showering petals at the carriage carrying the coffin. There was deployment of heavy security all along the way from BJP Headquarters to the cremation ground. The chants of immortality like Atal Bihari Amar Rahe, Jab tak Suraj Chand rahega Atalji ka Naam Rahega and that of nationalism with which he was associated like Bharat Mata ki Jai and Vande Mataram resonated in the air.
Almost every visitor had a similar emotion to express when talking about the greatness of Late Mr. Atal Bihari Vajpayee. The great amount of respect and love that Atalji garnered over the years was reflected in his last journey and certainly his demise left a void in the Indian Politics.
--Deepak Kumar