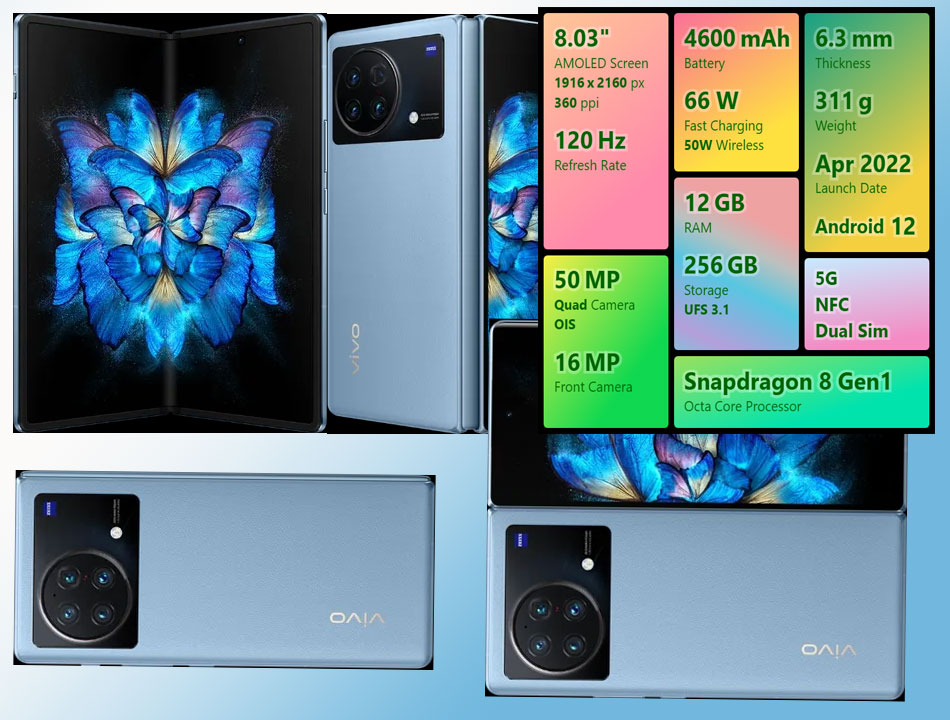 Chinese mobile phone manufacturer Vivio updated their second generation foldable phone and released foldable phone X Fold+ with a powerful high-end Qualcomm processor, which will give huge performance to the new device. Now the foldable phone X Fold+ is going to be the most powerful foldable smartphone from the company. Users will be able to use this device and get more performance.
The Company released a foldable phone X Fold+ with a powerful high-end Qualcomm processor in China on Monday night. The X Fold+ is priced between RMB 9,999 – RMB 10,999 ($1,396 – $1,536). This is the second generation foldable smartphone by the Company.
The X Fold+ is a new high-end phone from the company which is based on the Snapdragon 8+ Gen 1. This phone will give tough competition to the similar feature smartphones from Motorola, Xiaomi, Samsung, and Huawei.
The new X Fold+ is designed for the consumers preferring a better camera and dual-fingerprint system. This smartphone is expected to give better performance to the high end mobile applications.
There is an increment in the number of sales in the smartphone in the second quarter of this year, but there is a decline in the overall smartphone sales in the China's market. These days Foldable phones are picking up in the market. Sales of Foldable phones are increasing and more customers are buying such phones.
Specification of Vivo X Fold +
The Vivo X Fold + is yet another powerful smartphone from the company, that comes with the similar specs as its precedoor but equipped with the new powerful processor and other features. The Vivo X Fold + comes with a new processor, fast charging and improved battery, which makes yet another powerful smartphone for the customers.
This smartphone is based on the inner folding design and gives a similar experience as Samsung's Infinity Flex and other foldable smartphones in the market. The weight of this smartphone is 311g, which makes it a heavier smartphone compared to other brands in the market.
The Vivo X Fold + comes with a 4,730 mAh battery and also supports 80W fast charging. This phone can be charges at 30% faster than the previous models.
The Vivo X Fold+ comes with a qual-camera system and the optical hardware is from Zeiss. It supports ultra-wide to telephoto frames. The primary camera supports 50MP and 48MP resolutions. Camera specification is decent.
This smartphone comes with an 8.03-inch inner and a 6.53-inch external display, both these screens support 120 Hz refresh rate. In the screens LTPO is used which supports adaptive refresh rate to save battery. The screens of this phone features a 2,160 x 1,916 resolution and 4:3.55 aspect ratio.
The Vivo X Fold+ comes comes in the 12 GB RAM plus 256 GB storage and 12 GB RAM plus 512 GB storage variants.