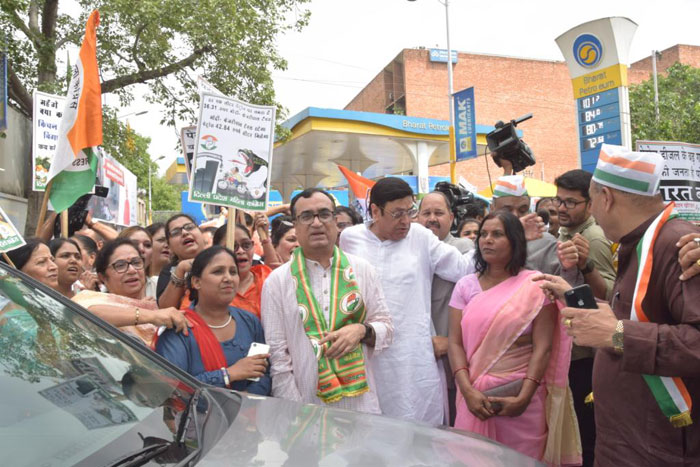 Delhi Pradesh Congress president Ajay Maken staged huge protest against BJP in New Delhi today against fuel price hike in country. Ajay Maken said that petrol and diesel have gone beyond the reach of the common people as the BJP-led Modi Government at the Centre and Kejriwal's Aam Aadmi Party Government in Delhi have joined hands to loot the people by increasing the excise duty and VAT on petrol and diesel sky high.
Delhi Pradesh Congress president Ajay address the congress workers in New Delhi today, he was addressing the Congress workers during a near Siddharth Hotel, Pusa Road as part of the Congress party's Bharat Bandh to protest against the soaring prices of petrol, diesel, kerosene, LPG and other essential commodities.
To protest against the rising prices of petro and diesel, the Congress party had called a country-wide bandh today, and as part of this, the Delhi Pradesh Congress Committee, under the leadership of Delhi Pradesh president Ajay Maken, held protests in all the 280 blocks in the Capital. Besides the Congress workers, thousands of common people, affected by the price rise of petrol, diesel, cooking gas and other essential commodities, also participated in the protests against the BJP-led Central Government and the AAP Government in Delhi. Thousands Congress workers and shopkeepers peacefully participated in the protest at the petrol pump. The bandh was also supported by traders, shopkeepers and the common people in large numbers.
Ajay Maken accused BJP of increasing the petrol and diesel price in country. He said "Modi Government has raised the excise duty to Rs 19.48 per litre now, which means that there was a 211.7 per cent increase in the excise duty on petrol."
Besides Delhi Pradesh Congress president Ajay Maken, prominent others who participated in the protests at the petrol pump were ex-MPs Sajjan Kumar and Mahabal Mishra, former Delhi Ministers Dr Kiran Walia and Ramakant Goswami, senior leader and ex-MLA Mukesh Sharma and other members of congress.
Congress called all India band against BJP for increasing Petrol and Diesel price in country. Several trade association and political parties are supporting coutry-wide band today.
-- Deepak Kumar