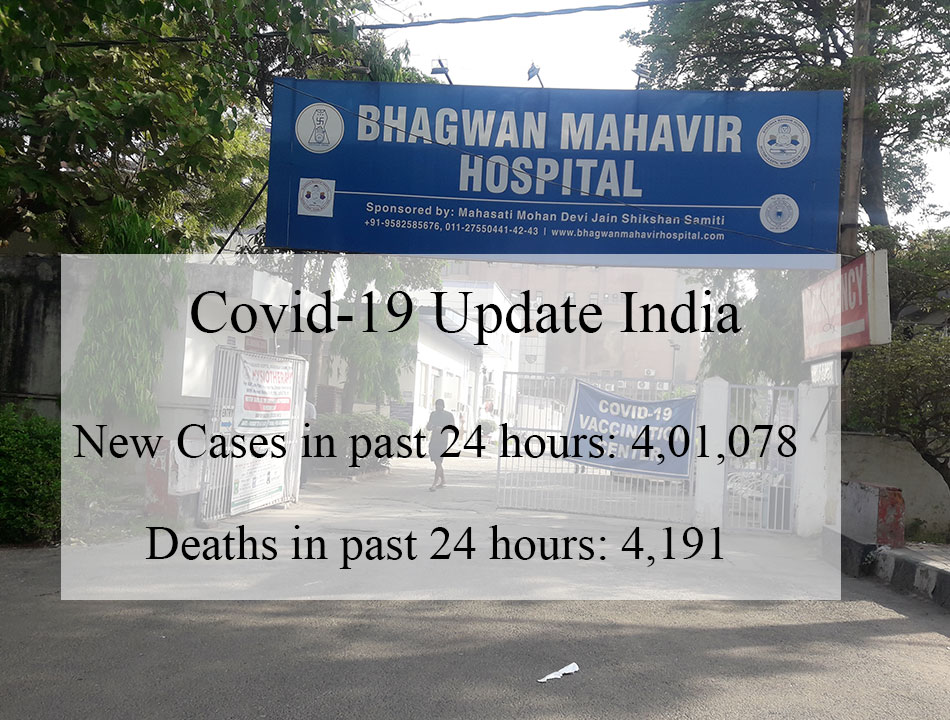 India reported 4,187 deaths in past 24 hours, which is the highest per day deaths due to Covid-19 in India. India reported 4,01,078 new cases in past 24 hours which is little less count from previous day new cases count. With this surge total number of recorded cases of Covid-19 rose of over 2.18 crore. The total number of active cases remains 37 lakh while 1.79 people recovered from the deadly Covid-19 infections. India reported 4,187 new deaths in past 24 hours raising the total death count to 2.38 lakh in the country due to Covid-19. Maharashtra remains the worst affected state with 54,000 new cases, Karnataka is on the second position with 49,000 new cases while Kerala is third worst affected state with 38,000 new cases in past 24 hours.
Tamil Nadu Government announced complete lockdown from May 10 to May 14 in the state. Decision came just after increase in the new cases. Tamil Nadu became the latest state to announce the complete lockdown to break the chain of Coronavirus infection.
According to the Health Ministry, twenty-five states reported more than 25% test positivity rate which is a "matter of great concern." In the 30 districts "a steep upward trend" in new cases has been recorded in the last two weeks. The upward trend in the new cases is not a good sign and it to be dealt with great force.
According to The Union Health Ministry Friday statement, the Covid-19 new cases are plateauing in the Maharashtra, Uttar Pradesh, Delhi, Rajasthan, Chhattisgarh, Gujarat, Madhya Pradesh, Telangana and Jharkhand.
The Principal Scientific Advisor to Prime Minister K VijayRaghavan said that the third Covid wave is 'inevitable', but it's severity will depends on preparations made by states.
Although India reported slight dip in the new Coronavirus cases in past 24 hours while per day death count increased and India reported over 4,187 deaths count past 24 hours. According to the Health Ministry report on Saturday morning the cumulative caseload in the country rose to 2,18,92,676.
Maharashtra is worst affected state with 54,022 new cases on Friday, while Mumbai reported 3,039 new cases in past 24 hours.