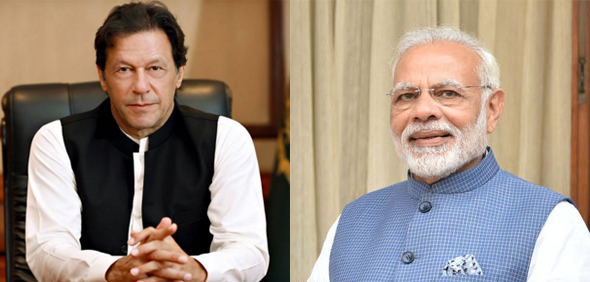 Recently-elected Pakistan's Prime Minister Imran Khan in a letter to Prime Minister Narendra Modi has expressed his willingness to the rekindling of comprehensive dialogue between the two neighbors.
Earlier in a congratulatory telephone call to Mr. Khan, Indian PM Modi had hoped for meaningful dialogue and better bilateral ties between both the countries.
Khan's letter to India is the first formal communication after he took over the Pakistan government, following his victory speech in which he had mentioned that Pakistan would respond with two steps to any step India takes towards normalization of ties.
Imran Khan in his letter has wished-for for a foreign minister level talk in the upcoming UN General Assembly in New York, as a starting point to explore the way forward.
He also wrote that the SAARC Summit in Islamabad would offer an opportunity for Prime Minister Modi to visit Pakistan,which would also be an opportunity for both the countries to restart the stalled dialogue process.
In his letter, Imran Khan also spoke highly of former prime minister Atal Bihari Vajpayee who had contributed a lot in trying to bring positive change in the bilateral relations and a strong SAARC for building bridges and developing ties.
Khan positively mentioned, "Pakistan and India have an undeniably challenging relationship. We, however, owe it to our people, especially the future generation, to peacefully resolve all outstanding issues, including the Jammu &Kashmir dispute, to bridge differences and achieve a mutually beneficial outcome."
Previously, the Indian government had opened the door for all kinds of talk, but the 2016 Pathankot airbase attack had stalled the process. India is waiting for a favorable environment for the dialogues to begin, while the government of India at many international forums has asked the Pakistan establishment to act on the terrorism emanating from its soil.
While the Pakistan Prime Minister has expressed his willingness for better ties between both the countries, he is believed to be close to the Pakistan Army that has always been against any kind of talks with India.
Mr. Khan was also vocal in his anti-India rhetoric during his election campaigns. Under such scenarios, India would certainly ask Pakistan to first act on terrorism before any kind of peace talk. However, a foreign minister level talk cannot be ruled out.
--Deepak Mohanty